Excerpt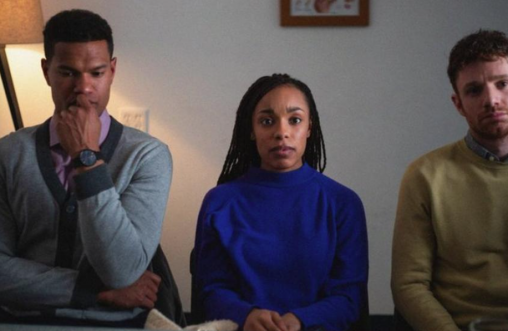 Jasmine Batchelor, an acting alumna of Wright State University and The Julliard School, has received rave reviews for her starring role in Jeremy Hersh's new independent film "The Surrogate," available for screening locally and virtually courtesy of Monument Releasing and the Neon Movies.
Initially scheduled to be presented at this year's South by Southwest Film Festival, the film tells the story of Jess, a Brooklyn web designer serving as surrogate and egg-donor for her best friends Josh (Chris Perfetti) and Aaron (Sullivan Jones). Situations escalate when a prenatal test creates a moral dilemma placing their friendship in jeopardy.
"As Jess, Jasmine Batchelor turns in one of the year's best performances, profound work that twists an already propulsive concept into a riveting character study," said Kate Erbland of IndieWire. "Played by anyone else, Jess might read as cloying, even intrusive, but Batchelor finds a well of empathy in Jess. Her attempts to navigate her way through a story that has no easy answers allow both Hersh and Batchelor to explore even more questions, including issues of racism, privilege, and financial security. Rooted in Batchelor's transformative performance, these questions feel urgent and necessary, never shoehorned in to bolster a production modest enough to feel like a stage play."
Furthermore, The Moveable Fest noted "Jasmine Batchelor is an effervescent stage presence," and The Playlist regarded the film as "one of the most thought-provoking movies centered about parenting released in recent memory – bar none." In addition to her titular portrayal, she also served as associate producer.
While at WSU, Batchelor delivered a stunning breakthrough performance as the vibrant, sophisticated, audience-friendly maid Sabina in W. Stuart McDowell's 2007 production of Thornton Wilder's "The Skin of Our Teeth." She was also a radiant Beneatha Younger in WSU's 2008 production of "A Raisin in the Sun."
"Jasmine Batchelor was a sparkling young actress who lit up the stage with the opening lines of our production of 'Skin of Our Teeth,'" said McDowell, former Chair and Artistic Director of WSU's Department of Theatre, Dance and Motion Pictures. "She's like a firecracker on stage; her sparkling eyes, her broad smile, her charming essence all unite to create electricity on the stage that's so rare."
According to WSU Professor Bruce Cromer, she is "smart, beautiful, strong, an excellent stage combatant (she was in my Combat classes), articulate, and a compassionate, generous and humble soul. Jasmine is among the finest individuals to have graced the WSU Professional Actor Training Program." In addition to appearing as Yale University student Terri Scholes in the Human Race Theatre Company's 2010 local premiere of "The Vertical Hour," Batchelor's theatrical credits include performances with Shakespeare Theatre of New Jersey, Baltimore Center Stage, Two River Theater Company, Manhattan Theatre Club, The Playwrights Realm, and The Public Theater. Her recent television credits include "New Amsterdam," "NCIS: New Orleans," The Good Fight," "The Affair," and "Law & Order: SVU."
View the original story at dayton.com