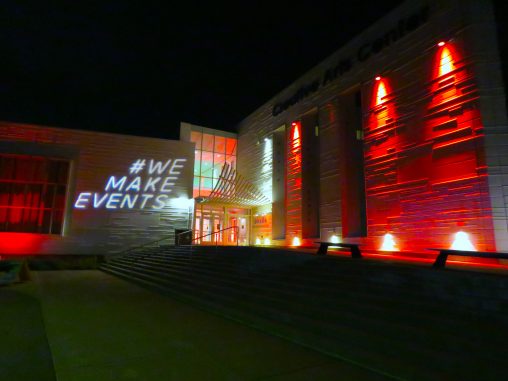 Glowing red, Wright State University's Creative Arts Center was part of a nationwide event to draw attention to the negative impact the COVID-19 pandemic has had on the arts industry and appeal for congressional aid.
As part of Red Alert RESTART, Wright State lighting design and technology majors Hannah Carmen, Malia Dalba, Micah Hardman, Jera Lauderdale, Alexander Markley and Gabe Reichert had the arts center bathed in red light on Sept. 1.
More than 5,600 theatres, performing arts centers, and other venues – including 18 locally – were lighted up to bring attention to the plight of entertainment professionals.
Joe Deer, chair of the Department of Theatre, Dance and Motion Pictures, said Red Alert was a visual reminder from designers, stagehands, concessions workers and box office personnel of the economic effects of the very necessary shutdown of public gatherings.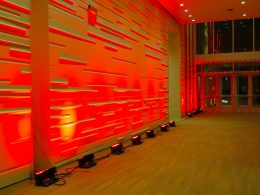 "And it was designed to encourage Congress to pass a bill called RESTART that extends unemployment relief that has kept so many arts venues solvent," said Deer. "It was not an effort to promote mass gatherings before it is safe to do so."
Matthew P. Benjamin, professor of lighting design and head of the Design and Technology Program, said the lighting majors spent a week conceptualizing and designing the lighting installation as well as prepping the lighting package of color-changing LED fixtures, conventional fixtures, cable and control.
Many of the lights used were taken down from Wright State's Festival Playhouse, where they had been hung and focused for the production of "Mamma Mia," which was a week from opening when the campus moved to remote learning in March.
"The lighting design and technology majors were excited to tackle this project," said Benjamin. "The Department of Theatre, Dance and Motion Pictures is not producing any stage productions this semester due to the pandemic, so the students were very pleased to be part of this national effort and 'get their hands dirty,' so to speak."