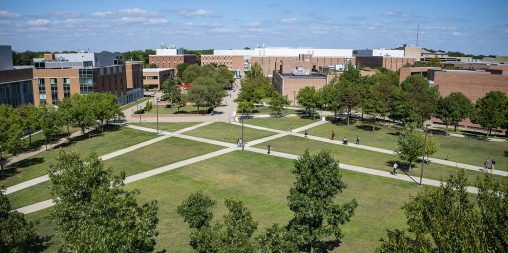 A grassroots coalition of Wright State University students, faculty, staff and alumni is working on an initiative to confront racism and make anti-racist work a priority for the entire university community.
The Racial Equity Task Force is one of a number of Wright State initiatives that range from the creation of the President's Council for Inclusive Excellence, the Students' Presidential Advisory Group on Inclusive Excellence and the Bias Incident Reporting Team.
"This task force, led by our students, is meant to complement the ongoing work of the other efforts on campus that are focused on inclusive excellence," said Laura Luehrmann, president of the Faculty Senate. "What is helpful about this model of diversity and inclusion is that it puts the responsibility for change on all of us, highlighting the role we all play in promoting genuine inclusivity in all that we do."
The task force was formed following the death of George Floyd during his arrest by Minneapolis police in May. It grew out of talks between faculty and Student Government leaders, including Luehrmann; Brian Boyd, vice president of the Faculty Senate; and Adrian Williams, newly elected president of the Student Government Association.
Since then, the task force has begun work, forming subcommittees to focus on specific areas, including communications, scholarships and opportunities for students, outreach and training, and policy and procedures.
"We started by listening to our students and they have been clear in asking that we take action," said Boyd.
The task force has acknowledged there have been prejudices and oppressions experienced by students, faculty and staff of color and pledged to actively pursue pathways for their safety and success.
"Anything less is complicit in perpetuating racism," the task force said in a letter to President Sue Edwards. "We strongly condemn racial injustice and inequity and will combat it by providing networks and resources that support the specific needs and encourage the unique contributions of our historically underserved and marginalized populations."
The letter was signed by more than 60 faculty members, students, staff and alumni.
Task force member Carol Mejia LaPerle, professor and Honors adviser for the Department of English Language and Literatures, said Wright State can do better to ensure that its climate and culture demonstrate policies that address the specific needs of students, faculty and staff of color.
"This must be more than a memo circulated to check a box," she said. "Our identity centers need to be better funded, our students, faculty and staff of color should be celebrated, mentorship and retention of diverse scholarship made a priority, and the important academic and social contributions of Black citizens recognized for their significant impact on American life."
The task force is one of multiple related initiatives at Wright State, including the adoption by the university of the principle of inclusive excellence.
"It melts inclusiveness and academic excellence into one concept," Edwards told the Wright State Board of Trustees at its Sept. 18 meeting. "For an institution to really be excellent, we have to be inclusive. It also shifts responsibility for diversity and inclusion to everybody on the campus — from the Board of Trustees to our students and our alumni. One person or one unit cannot accomplish a cultural shift."
Edwards said inclusive excellence embraces a wide diversity that includes race, ethnic orientation, nationality, age, gender identity and sexual orientation.
The initiative includes the creation of the President's Council for Inclusive Excellence, which will be responsible for all inclusive excellence programming for faculty, staff and students at the university. In addition, there is a Students' Presidential Advisory Group on Inclusive Excellence, the Bias Incident Reporting Team, and a Sustained Dialogue Program to help facilitate difficult conversations among the campus community.
Edwards said the university plans to provide training in overcoming unconscious and implicit bias to faculty, staff, students and trustees. Wright State's identity centers will be reconceptualized to be centers of intercultural excellence and community that will feature programming for students, faculty and staff and include mentoring programs. Curriculum will be audited for cultural competency, and the university is looking into the possibility of a faculty exchange program with Central State University.
"Wright State is committed to creating a culture that puts students at the center of all that we do," said Edwards. "We want to be a university that produces culturally competent graduates who are critical thinkers and keen problem-solvers."
Over the summer, Wright State held a series of online forums on inclusive excellence and racial inequality on campus, in the region and nationally. The University Libraries created an online Anti-racism Guide providing campus resources, book recommendations, education videos and more about racism and racial justice. Residence Life and Housing is providing extra training in anti-racism and social justice for its professional staff and resident advisors.
Political science major Kevin Jones, who serves as a student member of the Racial Equity Task Force, sees its goal as implementing tangible, effective, efficient changes around campus through communications, community, leadership, training, allocation and designation of funds. He hopes the task force will pave the way for new financial opportunities and mentorship for underrepresented minorities.
Jones served as the Student Government Association's director of inclusive excellence and founded Retain the 9, which is the university's official diversity retention initiative.
Jones said that for many years Wright State has conducted surveys, hired consultants and done all of the groundwork for equitable change.
"But it hasn't been until now that we have had university buy-in from all of our stakeholders, including alumni," he said. "In this unique moment we have an opportunity to push the needle and make quantitative and quality strides to a better tomorrow for every student we call family."
Williams, a neuroscience major, also serves on the Racial Equity Task Force. He sees its biggest challenge as sustaining momentum.
"My goal is that institutional awareness is ingrained in our heads on these types of issues; that all faculty, all staff, all administration understand that going to college as an underrepresented minority, as a socioeconomic minority, is fundamentally a different experience in so many different facets of your education than as another type of student," he said. "I feel like if we're able to establish that as a rule of law, then we can go from there and say now that we know there are different types of experiences, how are we then going to help all students?"
The Racial Equity Task Force plans to make recommendations to the administration, Board of Trustees and the Presidents' Council on Inclusive Excellence, which is designed to transform the campus climate and culture and ensure accountability for installing structural anti-racist policies and procedures.
"The work of this task force is incredibly important for Wright State because it is so needed and overdue," said Tiphani Moss, a doctoral student in the School of Professional Psychology who serves on the policies and procedures committee. "The lack of support that students of color feel is something that I think they have always felt."
Moss sees the biggest challenges for the committee and task force as making structural change in a large organization and making sure to take actions that benefit students immediately. She said that as a Black woman at Wright State she has had many experiences that made it harder to feel seen, supported and valued, making it more difficult to function at a high level academically and be successful.
"Being a college student is hard enough, but being a Black person in America and enduring that constant racial trauma while also fulfilling all the roles and responsibilities that come with being a college student is incredibly challenging and exhausting," she said. "If the task force can work to make Wright State a place where students of color feel supported while trying to navigate all of these challenges, then I think we are doing our job."
Mejia LaPerle said acknowledging inequalities and seeking justice is simply the right thing to do.
"More specifically for Wright State, the protestors who are demanding reckoning for the deaths of innocent Black men and women, the hard-working population bearing the brunt of COVID-19 risks, those who carry the emotional and physical labor of advocacy and activism — these are our students, faculty, staff and alumni," she said. "They deserve the networks and resources to combat racism."
Mejia LaPerle said calling out white supremacy and actively seeking meaningful, ongoing, institutional anti-racist practices and policies will not happen overnight.
"But it is the most urgent work of our time and the task force is committed for the long term," she said.
Luehrmann said it is great to see Wright State students, faculty, administrators and staff come together to have important, difficult and absolutely necessary conversations.
"Through the cumulative efforts of the President's Council on Inclusive Excellence, the Racial Equity Task Force, the Students' Presidential Advisory Group on Inclusive Excellence and other efforts that may have yet to emerge, I believe we can really start to make a much-needed difference in our community," she said.