The turning point in her career happened in war-scarred Bosnia. Caress Schenk had traveled to the southeastern European nation to visit friends and ended up making a short documentary film. The three-and-a-half-year Bosnian War ended following the Dayton Peace Accords, which were reached at Wright-Patterson Air Force Base in 1995.
"We did interviews with people from different sides of the war in the 1990s and I read everything I could get my hands on," Schenk said. "I just could not wrap my head around the tragedy of war and decided that I needed to study politics to try and understand what drives people to act so despicably."
That led Schenk to Wright State University to pursue her master's degree in international and comparative politics and then on to a career in academia.
Today, Schenk is an associate professor of political science at Nazarbayev University in Kazakhstan, a former Soviet republic. She is an expert on the politics of immigration and has recently authored a book titled "Why Control Immigration? Strategic Uses of Migration Management in Russia."
Schenk says her book demonstrates how power in Russia is not as centralized as many people think. Political power in Moscow matters, but there are many more actors important in Russian politics than President Vladimir Putin and his inner circle, she said.
"My book is a story about regional leaders and actors who manage their migration issues differently in their regions and how the government in Moscow relies on regional leaders to keep the country stable and coordinated," she said. "These regional leaders have to manage public opinion and keep their region from becoming a negative migration 'hot spot,' then they are free to manage migration on the ground how they prefer."
After earning her bachelor's degree, Schenk taught music, read a lot of literature and generally searched for what she wanted to do with her life. Then came Bosnia.
After that experience, Schenk returned home and enrolled at Wright State. She said it was a great fit for her.
"The professors, especially professor Laura Luehrmann, took the raw materials of someone who had no idea what they were doing and helped me trust my ideas and shaped me into a budding scholar," Schenk said. "Once I came to Wright State, I realized what a gem it is. The student body is so wonderfully activist, and diversity and inclusion aren't just a fancy byline. They're really practiced."
Schenk graduated in 2005 with a master's degree in international and comparative politics, writing her thesis on NATO's intervention in the former Yugoslavia and the international norms on humanitarian intervention.
"Wright State helped me make the transition from an inquisitive person to a budding scholar," she said. "The university was an important transition for me into academia, giving me the confidence to go on and pursue a Ph.D."
Luehrmann, professor of political science and director of the M.A. Program in International and Comparative Politics, said she doesn't believe pursuing a Ph.D. was anywhere on Schenk's radar when she enrolled in the master's program.
"Now she is a published scholar who is helping to shape the next generation of scholars in Kazakhstan," said Luehrmann. "Watching the unbounded success of our former students is one of the greatest joys of being a professor."
Schenk earned her Ph.D. in political science from Miami University in 2010, writing her dissertation on immigration policy in Russia.
She became interested in the politics of immigration and national identity in Eurasia when she took a course at Miami on globalization that demonstrated how crucial the process of immigration is for demonstrating state power or lack of it. At the time, she had been studying Russian and was a graduate assistant at the university's Havighurst Center for Russian and Post Soviet Studies.
"Russia is one of the largest immigrant-receiving countries in the world," she said. "It was also a vastly understudied topic, at least in the English-language literature. So it was a perfect dissertation topic."
After graduating from Miami, Schenk taught at Northern Kentucky University for a year as a lecturer and in 2011 moved to Kazakhstan to join the faculty at Nazarbayev University.
Nazarbayev was founded to give Kazakhstani students an opportunity to have a Western-style education at home. Instruction is entirely in English by professors from all over the world, most of whom earned doctorates in Europe or the United States.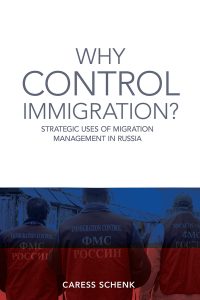 Schenk teaches undergraduate classes in Introduction to Comparative Politics, Nationalism and Multiethnic Governance, the Politics of Immigration Control, and Russian Politics. For graduate classes, she teaches a comparative politics field seminar and sometimes a research design course.
Schenk is also director of the Nazarbayev's master's program in political science and is working with the first cohort of graduate students in a new Ph.D. Eurasian Studies program.
Schenk said winters in Kazakhstan last half the year and can be a bit extreme, with temperatures sometimes plummeting to 60 degrees below zero.
"But Kazakhstan has many, many beautiful national parks, lakes and amazing places of untamed nature," she said. "We've only just started to explore some of these great treasures."
Schenk, her husband and their three children live in the capital city of Nur-Sultan, which has grown into a thriving international community.
"Two of our kids were born here, and that was amazing because the culture really treasures children," she said. "Our kids are now 11, 6 and 3, and they're really thriving, learning languages and making friends with kids from all over the world."
Luerhmann said Schenk is a great example of what makes graduate programs at Wright State so special.
"We attract extremely intelligent, motivated and hard-working students," she said. "These students become alums who literally go all over the world, incorporating the knowledge they gained here in creative and important ways."