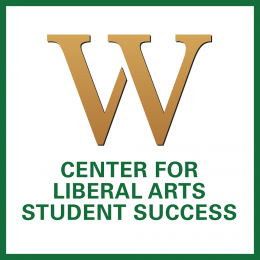 A series of virtual events designed to highlight internship partners and opportunities to students and faculty in the Wright State University College of Liberal Arts is scheduled for late October.
The COLA Internship Partners Expo Virtual Spotlights — a series of 60-minute informational and Q&A sessions — will occur over a two-week span, from Oct. 19 to 23 and Oct. 26 to 30, in Wayne Stark's personal Webex room.
"COLA Internship partners will be individually showcased, giving them the opportunity to substantively engage with our students and faculty and share organizational information," said Stark, director of workforce development for the Center for Liberal Arts Student Success in the College of Liberal Arts. "Following the information dissemination portion of the Spotlights, there will be time for questions and answers."
Stark also said that while he will promote the Spotlights to COLA students, like his past successful Internship Partners Expos, the events will be open to all students.
The internship partners include nonprofits, corporations, government agencies, social services, health care providers and others.
Confirmed participants are:
Westchester Education Services: Oct. 19, 11 a.m.
Catholic Social Services of the Miami Valley: Oct. 20, 2 p.m.
Reynolds and Reynolds: Oct. 21, 1 p.m.
Dayton History: Oct. 21, 3 p.m.
Warren County Records Center: Oct. 22, 11:30 a.m.
Greene County Records Center: Oct. 26, 11 a.m.
Salvation Army: Oct. 27, 10 a.m.
Dayton Children's Hospital: Oct. 27, 2 p.m.
Fairborn Sustainability Committee: Oct. 28, 11 a.m.
United Way Hall Hunger Initiative: Oct. 29, 2 p.m.
YWCA: Oct. 29, 10 a.m.
Area Agency on Aging: Oct. 30, 11:30 a.m.