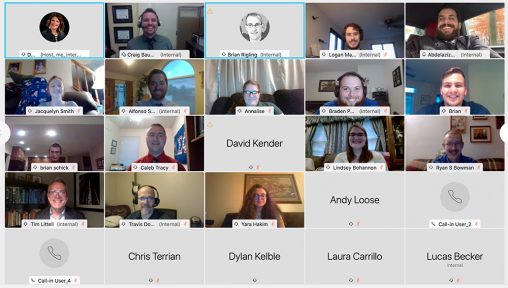 About 25 College of Engineering and Computer Science students took part in the college's virtual induction ceremony for the Order of the Engineer and, for the first time at Wright State University, the Pledge of the Computing Professional.
The Oct. 23 event was conducted by Brian Rigling, dean of the College of Engineering and Computer Science's; Tim Littell, associate vice provost for student success; David Kender, senior lecturer of engineering emeritus; and Craig Baudendistel, lecturer of mechanical and materials engineering.
Rigling said it was great to finally celebrate the accomplishments of undergraduate students who completed their degrees last year.
"I was especially pleased that we added the Pledge of the Computing Professional to our annual induction ceremony," said Rigling. "This will allow all of our undergraduate students to participate at the conclusion of their degree programs."
The ceremony was for all undergraduate students from the College of Engineering and Computer Science who completed their degrees in the Summer or Fall Semesters of 2019 or the Spring Semester of 2020. Students were offered the opportunity to wait for an in-person ceremony in the future.
The Order of the Engineer is a symbolic organization that seeks to promote professionalism among engineers and graduates of accredited engineering programs. The order is the roster of engineers in the United States who have publicly accepted the "Obligation of an Engineer" while participating in an engineers' ring ceremony.
The Pledge of the Computing Professional is an organization that promotes computing as a recognized profession at the time of graduation for students in computer science and related programs. The pledge is a rite-of-passage ceremony for graduates of computing programs.
Inductee Yara Hakim said the college made it feel as if the students were all in the same room, surrounded by their former professors "who are now our forever friends."
"I hadn't seen some of my friends since March due to the COVID-19 pandemic, yet I got to see some of their faces on Friday, which was very refreshing," said Hakim. "It was a truly outstanding ceremony, and I will never forget my obligation as an engineer or my experience at Wright State."