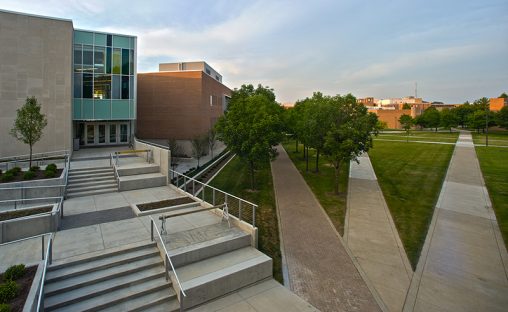 Five Wright State University faculty members will be honored in a virtual pinning ceremony for successfully completing a certificate program in effective online and face-to-face teaching practices.
The recognition and pinning ceremony will be held on Friday, May 21, from 1 to 2 p.m. on Zoom.
The certificate opportunity offered by the Association of College and University Educators came through Wright State's work with Ohio's Strong Start to Finish, a network formed to help all students find success in post-secondary education.
The Wright State faculty members to be honored are Daryl Hausman, lecturer and academic director for developmental writing; Sarah McGinley, senior lecturer of English; Peggy Kelly, senior lecturer and academic director for developmental mathematics; Glenn Dahl, lecturer of mathematics and statistics; and Erik Potts, instructor of mathematics and statistics.
"This was an exciting professional development opportunity," said Tim Littell, associate vice provost for student success and campus lead for the Ohio Strong Start to Finish initiative. "We are especially excited for the chance for our math and English faculty to work together in this course as we continue to advance our co-requisite strategy."
Kelly said the program had many helpful methods and practices that will make her a better teacher.
"One that I am eager to incorporate into my courses is the use of discussion boards in mathematics," she said. "The course helped me see a variety of ways that math students could engage with discussion boards to more deeply understand math concepts."
Hausman said the program helped him better negotiate teaching online by demonstrating how to adapt good teaching pedagogy to online instruction.
"I also appreciate the numerous activities which helped me create assignments that assist with active learning," he said.
Potts said the program reinforced many of his teaching practices and that seeing video clips of many different online classes was also valuable because they showed him many ways to implement the things his classes were studying.
And he said experiencing an online course as a student and sometimes struggling to complete his own coursework helped him better relate to what his students were going through this year.
"I liked getting both student, faculty and expert perspectives during the course," he said.
McGinley said the program greatly expanded her toolbox of techniques, validated many of the activities she already does with her students, and gently steered her away from some older, less effective pedagogical techniques.
"Being able to take part in a supportive community of Ohio teachers who are all concerned with best practices but who are understanding of where we all are in our various educational journeys was such a great thing to be part of in a year where so many of us are physically separated from our daily communities of professional support," she said. "And being back in the student seat was perhaps one of the best lessons for how it feels to be on the receiving end of pedagogy — and a great reminder of how two way the process really is."