Excerpt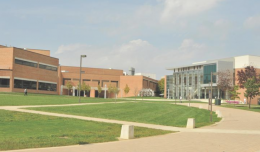 With a seven-figure federal grant in hand, Wright State University faculty are one step closer to discovering therapies that could help combat rare muscular diseases.
Dr. Hongmei Ren, assistant professor of biochemistry and molecular biology at WSU, received a $2.4 million research award from the National Institutes of Health and the Department of Defense to explore gene therapy in Duchenne muscular dystrophy, the university announced Friday.
Ren received the award in collaboration with Mark Rich, professor of neurology in the Boonshoft School of Medicine; and Andrew Voss, associate professor of biological sciences at Wright State.
Duchenne muscular dystrophy typically affects boys and causes progressive physical disability, immobility and premature death. There is currently no cure, but improving the integrity of muscle membranes may delay progression of the disease and extend the lifespan of patients.
Ren's research focuses on lipid metabolism, muscle biochemistry and physiology — specifically lipin1, a key protein in skeletal muscle function. Through her research, Ren has found that lipin1 is critical for the maintenance of membrane integrity, and lipin1 deficiency leads to compromised muscle membrane integrity and myopathy.
"The research grants and awards will enable exploration of the mechanisms and functional analysis of lipin1 as a novel alternative or complementary gene therapy in dystrophic muscles," Ren said in a release.
According to WSU, Ren's work may open new avenues of research in related muscular diseases. Understanding how to improve muscle membrane integrity could lead to therapies that can combat diseases like muscular dystrophy.
Wright State has inked several major grants from the National Institutes of Health this year, including a $1.7 million award that could aid development of an "uber-sunscreen" for people with sun sensitivity and a $450,000 grant to accelerate research related to Lou Gehrig's Disease.
The university in July also scored a $3 million NIH grant to support a joint research project with two of Ohio's largest colleges.
Founded in 1967, Wright State University is the third-largest postsecondary institution in the Dayton region, according to DBJ research. The university operates its main campus in Fairborn near Wright-Patterson Air Force Base, as well as a regional campus in Celina.
View the original story at bizjournals.com