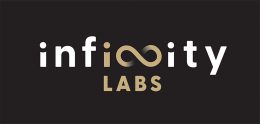 Wright State University is teaming up with Dayton-based research and development firm and national security solutions provider Infinity Labs, an alumni-rich partnership that promises to speed the transfer of technology from academia to industry, provide critical experience for students and boost economic development in the region.
Infinity Labs was founded in 2020 by seven local executives with experience as military veterans, experts in system-of-systems modeling, simulation and analysis, cybersecurity, and a former civilian from the Air Force Research Laboratory (AFRL) with multiple decades of experience in multidisciplinary technologies. Half of the company's founders are Wright State alumni.
"We are excited to partner with Wright State in building a R&D center of excellence in downtown Dayton that will enable recruiting, developing and retaining future talent to the region," said Ken Edge, the company's chief executive officer who in 1998 earned his master's degree in electrical engineering at Wright State and was the senior military leader for 120 people in the Electronic Warfare and Cyber Division in the AFRL's Sensors Directorate. "The Wright State leadership understands the value to both of our organizations and the local community in building a strong partnership of collaboration in this endeavor."
Infinity Labs offers expertise in modeling, simulation, analysis and cybersecurity, including anti-tamper, weapons and infrastructure vulnerability assessments, research and development, tech transfer, commercial product development, biotechnology, nanotechnology, augmented reality and virtual reality, game design, aircraft power and propulsion, defense acquisitions and technology evaluation and transfer.
Jason Molnar, chief strategy officer, said the partnership is about shared ideals, building the future for Dayton with organic academic and industry cooperation and retaining Ohio talent.
"Wright State University President, Dr. Sue Edwards, supports Infinity Labs' vision as it aligns with the university's core values, mission and purposeful engagement with innovative companies in the region," said Molnar. "We're honored to work with Dr. Edwards and her team to help build the cooperative innovative ecosystem Dayton deserves."
Molnar, a decorated Army officer, brings significant combat experience to the table. When he served as a reconnaissance officer, he led a team of 28 troopers whose mission focused on the destruction of Al-Qaeda in the South Baghdad region of Iraq known as the "Triangle of Death" during Operation Iraqi Freedom's "surge" years in 2007-2008. He later transitioned his military experience to private industry supporting Special Operations Forces around the world and growing all-source intelligence capabilities within the National Air and Space Intelligence Center.
Four months after opening, Infinity Labs was selected by the Air Force as a prime contractor for a $950 million contract for the advanced battle management system, the service's primary acquisition for a next-generation command and control system. The company has received prime contracts with several other Department of Defense organizations and holds 13 small business innovation research and small business technology transfer prime contracts.
"Wright State University has an undeniable presence in Dayton, and the administration's leadership team is boldly seeking industry partners to enhance their curriculum, enrich students and provide a return-on-investment for the wider Dayton community," said Joseph Kirby, chief operating officer, who earned his bachelor's degree in computer science at Wright State in 2003.
Infinity Labs employs 38 personnel and projects to have as many as 100 employees by the end of the year. Annual median salary exceeds $90,000. The company had revenue of $5 million in 2021 and projects $20 million in revenue this year.
"I am both excited and proud to forge this partnership, which will enable technology transition from academia to industry, provide critical experience for students and, in doing so, rekindle the innovative spirit for Dayton, the city that once led the nation in number of patents per capita," said Kurt Glendenning, chief product officer, who earned bachelor's and master's degrees at Wright State in 2013 and 2015, respectively.