More than 1,600 students graduated during Wright State University's spring commencement ceremonies April 27, 28 and 29 at the Dayton and Lake Campuses.
The 1,603 graduates from the class of 2023 joined more than 120,000 Wright State alumni who are making a difference throughout Raider Country, all over Ohio, across the nation and around the world.
Wright State University President Sue Edwards, Ph.D., addressed the spring 2023 graduate and Lake Campus classes, urging students, family and friends to savor the accomplishment of earning a college degree and to drive toward their next adventure.
"The greatest reward for all your hard work is how you feel deep down inside right now. That sense of accomplishment of making it to the finish line, having earned your college degree," said Edwards. "You have faced your challenges and clearly triumphed to get to this point, though you did not do it alone. I know many of you are mindful of that."
View more photos from spring commencement >>
"You no doubt had help and encouragement from people who care deeply for you. Help from family, friends, faculty, staff and mentors who have supported you along the way," said Edwards. "I encourage you to savor your successes today, but more importantly, please consider the people who have supported you and helped you do it. Gratitude that acknowledges those who have invested in you, believed in you, and given so much for and to you."
She also urged graduates to fully embrace the empowerment of a college degree.
"Always remember only you are in control of your own destiny and happiness. You have the power to change and if you find yourself in an unhappy place, you have the ability to move – you are not a tree!" said Edwards. "So today, set your sights on the future. Visualize where you are going and make a plan for turning that plan into reality. And show the world what Wright State Raiders are truly made of!"
The featured speaker at the April 29 ceremony was alumna Sarah Hackenbracht, who received an honorary Doctorate of Humane Letters. Hackenbracht, who earned a bachelor's degree in political science from Wright State in 2003, is the president and CEO of the Greater Dayton Area Hospital Association.
She offered graduates some advice that has served her well.
"Don't seek to be the smartest person in the room. Fill the room with people who inspire and support you," said Hackenbracht. "In my experience, your life will be so much richer when you surround yourself with people who inspire you, motivate you, lift you up when you doubt yourself and challenge you when you can do or be better."
"And as you begin the next chapter of your life, I want you to know that we need you. We need your passion, drive, energy, enthusiasm and hope. We need you to help us make the Dayton region and Ohio a better place for everyone who lives here," she said.
The ceremonies also included a brief video message from Ohio Gov. Mike DeWine, who said, "The state of Ohio and the Dayton region need Wright State graduates like you. We succeed when you succeed."
Recorded videos of the ceremonies will be available to watch on Wright State's YouTube channel after the ceremonies.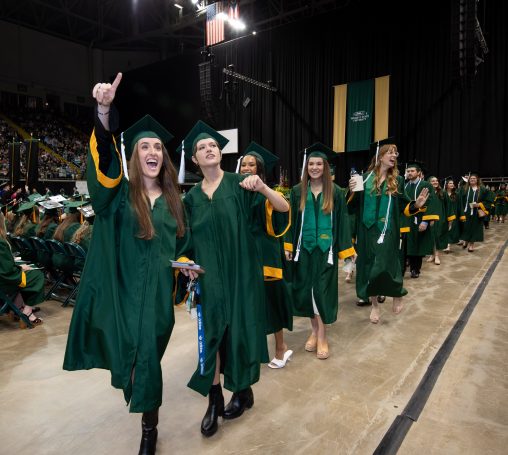 The spring class of 2023 includes graduates with 1,111 bachelor's degrees, 476 master's degrees, 16 doctoral degrees and 33 associate degrees.
The classes feature 251 international students from 21 different countries. India boasts the largest number of international graduates, with 209.
The two youngest graduating students are 18, earning a bachelor's degree in German and a bachelor's degree in organizational leadership. The oldest graduate is 65, earning a bachelor's degree in nursing.
Graduates by college:
College of Engineering and Computer Science: 355
College of Health, Education and Human Services: 370
College of Liberal Arts: 233
College of Science and Mathematics: 215
Raj Soin College of Business: 184
Lake Campus: 182
Boonshoft School of Medicine: 68 (bachelor's and master's degree only)