Judy Grant exemplifies a "doer" attitude while exhibiting technical, relational and leadership abilities with a caring approach to all that she undertakes.
Grant is the former administrative specialist in the Department of Environmental Health and Safety and currently serves as the administrative support coordinator in the Boonshoft School of Medicine.
She demonstrates service, leadership and innovation that positively affect the university, said Steve Farrell, director of the Department of Environmental Health and Safety.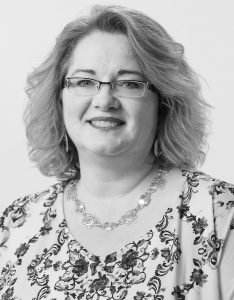 During her service in the Department of Environmental Health and Safety, Grant provided website ideas and solutions to staff, created communication tools, including online news articles, and collaborated with colleagues to improve the department's training requirement notifications to the university community. Additionally, she measured the effectiveness of these ideas.
She also addressed service requests and complaints with empathy and concern and followed up with them to ensure customer needs were met.
Her service, leadership and innovation go beyond her day job, reaching the campus community.
Grant created and manages the Administrative Team, or A-Team, as a personal goal to learn more about administrative functions at Wright State. Through the A-Team, more than 90 university employees of similar job responsibilities have developed new skills and collaborated on projects.
She also created the Inter-University Council Insurance Consortium Loss Control Committee website. The site houses important documents and is a tool for members of 13 universities in Ohio to share information.
Grant volunteered in the Ujima Mentoring Program offered by the Bolinga Black Cultural Resources Center and serves on the Staff Development Day Committee, responsible for much of the group's communication.
"She is everything anyone or any university would want in an employee: reliable, knowledgeable, ethical, creative, productive, a team player and leader, and positive and supportive," said Farrell.
Series: President's Awards for Excellence 2016
Excellence in Leadership (Classified)