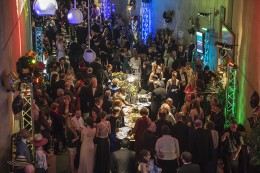 A record number of people—630—attended last spring's ArtsGala, the annual Wright State arts program fundraiser that was founded 14 years ago.
The College of Liberal Arts (COLA) announced this week the 2013 ArtsGala was also the most successful, raising $174,000 for scholarships, $50,000 more than the previous year.
"The number of people who attended ArtsGala this past year surpassed our expectations," said Kristin Sobolik, dean of the College of Liberal Arts. "We are so excited to showcase our excellent students to a larger audience so more people have a true understanding of how exceptional our fine and performing arts programs are."
Over the last 14 years, ArtsGala has raised more than $1.6 million for fine and performing arts students at Wright State.
"These funds are critical in helping our arts departments attract and retain top-notch, talented students and allowing our students to focus on their studies rather than worrying about making ends meet," said Jennifer Buckwalter, assistant dean for community and student engagement and organizer of ArtsGala.
The college awarded 58 arts scholarships, ranging from $500 to $7,700, for the 2013–14 academic year.
ArtsGala offers patrons a night of unparalleled entertainment. Students in art, music, theatre, dance and motion pictures display their rich talents throughout the Creative Arts Center, and guests are treated to an array of food and fun.
Next year's ArtsGala will take place April 12.
More information on ArtsGala is available on the event's website.