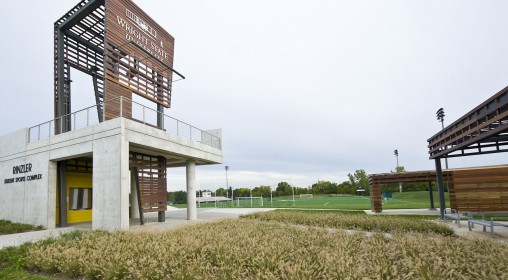 Wright State University's Rinzler Student Sports Complex received top honors in an annual publication citing the best of architectural design on school and college campuses.
The complex received the Sports Stadiums/Athletic Facilities Citation in the 2013 American School and University Architectural Portfolio, which celebrates the best in education design. The citation is the highest award presented in the Sports Stadiums/Athletic Facilities category.
The Rinzler complex was one of 145 projects featured in the portfolio and the November issue of American School and University.
The jury described the complex as having a "very innovative and sensitively integrated approach to function and entry into campus."
Opened in the 2012 Spring Semester, the Rinzler Student Sports Complex was designed as a hub for Raider athletics and all other students through Campus Recreation. With a prominent sign tower, the new facility also welcomes visitors as they enter the northeast corner of campus.
The complex includes a support building with restrooms, team rooms and concessions. A sleek observation ramp provides an easy, accessible perch to watch events and games.
The facility also contains the varsity soccer field and Mulhollan Field, the student recreation field named after the late Wright State President Paige Mulhollan. Both fields feature new synthetic turf.
Over the last two seasons, the varsity soccer field hosted 30 women's and men's soccer games, which attracted a total of 12,716 spectators.
Mulhollan Field had hosted the intramural sports of flag football and soccer; numerous club athletics games and practices, including football, soccer, rugby, Ultimate Frisbee; local and regional extramural events; Army ROTC training; and kinesiology and health classes. In addition, the field has hosted youth and high school football and soccer games and regional soccer tournaments.
The complex was designed by Annette Miller Architects, a Dayton firm that has worked on numerous projects on the Wright State campus.
Read more about the American School and University Architectural Portfolio.