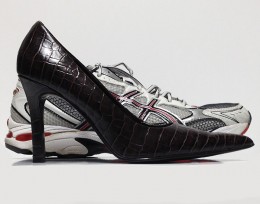 Wright State Orthopaedic Surgery, Sports Medicine and Rehabilitation will offer an educational session about appropriate footwear on Tuesday, March 18, at 7 p.m., in classroom 1 in the Wright State Physicians Health Center.
Justin Lodge, D.P.T., a physical therapist with Wright State Orthopaedics, will present "Walk Wright: Putting Your Best Foot Forward."
The educational session, which is free and open to the public, will cover foot type and anatomy; appropriate footwear; fads, high heels and barefoot running; and training tips.
Lodge is a 2007 Wright State University graduate. He also earned a doctorate in physical therapy from the University of Dayton in 2010.
Wright State Orthopaedics will offer its next educational session on Tuesday, April 15, at 7 p.m., at the Wright State Physicians Health Center. Corey J. Ellis, M.D., director of the Wright State Physicians Concussion Clinic and assistant professor of orthopaedic surgery, sports medicine and rehabilitation and family medicine at the Wright State University Boonshoft School of Medicine, will speak about concussions.
For more information and to register for either educational session, contact Cindy Dempsey at csdempsey@premierhealth.com or (937) 208-2128.
Videos of past sessions may be viewed on the Wright State Physicians website.
Wright State Physicians Inc. includes more than 150 physicians affiliated with the Boonshoft School of Medicine. The group provides primary and specialty care in a wide range of specialized diagnostic and treatment services throughout the Dayton region.