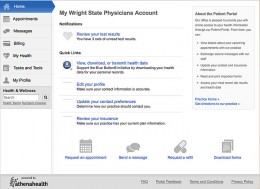 From scheduling appointments to viewing test results, Wright State Physicians has enabled its patients to manage their health care through athenahealth's Patient Portal, a nationally ranked online patient communication program.
The Wright State Physicians athenahealth Patient Portal enables patients to communicate with their doctors by sending and receiving secure messages. In addition, patients can view personal health information, update demographic information, browse health facts and information, view billing statements and balances, make secure credit card payments and request prescriptions and refills.
Using their own secure passwords, patients can log in to the online Patient Portal 24 hours a day, seven days a week from a smartphone, tablet or computer. "Our Patient Portal allows patients to communicate with us easily and safely—according to their schedules," said Candy Harper, chief operating officer of Wright State Physicians.
Wright State Physicians implemented its online Patient Portal in October 2011 to help patients save time, avoid playing phone tag with their doctors and stay educated about ways to keep themselves and their families healthy and safe. In 2013, about 25 percent of the practice's patients used the Patient Portal.
"Our patients like the Patient Portal option," Harper said. "They like being able to manage their health and communicate directly with their physicians."
In January, athenahealth, a leading provider of cloud-based services for electronic health records, practice management and care coordination, earned five Best in KLAS rankings, including one for its Patient Portal, athenaCommunicator. KLAS independently monitors and reports vendor performance.
Affiliated with the Wright State University Boonshoft School of Medicine, Wright State Physicians is the region's largest academic multispecialty group with more than 150 doctors practicing in a wide range of specialties.
Wright State Physicians provides expert care in dermatology, family medicine, geriatrics, internal medicine, neurology, obstetrics and gynecology, orthopaedic surgery, sports medicine and rehabilitation, pediatrics, plastic surgery, surgery and surgical oncology. The practice also offers WrightCare, a same-day, walk-in medical clinic at the Wright State Physicians Health Center on the campus of Wright State University (725 University Boulevard).