From virtual reality simulation to nursing disaster training, Sherry Farra has excelled in her field of patient simulation and disaster preparedness.
Farra, an associate professor and co-director of the National Disaster Health Consortium in the College of Nursing and Health, has received more than $1.6 million in research and program grants.
She has studied the effects of virtual reality training on worker evacuation of neonatal intensive care units in hospitals. She has published 12 articles and two chapters in two books focused on disaster management published in 2015. She also serves as program director for the college's National Disaster Health Consortium.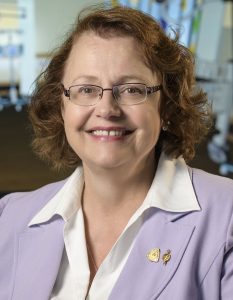 An expert in virtual reality simulation, Farra has implemented content using simulations in undergraduate courses and created two disaster-nursing electives.
Farra is a nurse educator who receives positive peer-teaching and student evaluations.
"Typically, students remarked on Farra's accessibility, clear examples, sense of humor and ability to stimulate critical thinking," said Rosalie Mainous, professor and dean of the College of Nursing and Health.
She has served as co-chair for the college's Campus Scholarship and Innovation Campaign, is an active member of the University Information Technology Committee and serves as secretary on the Athletic Council. She is a member of Sigma Theta Tau International Nursing Honorary Society of Nursing and is involved in many other societies and associations.
Additionally, Farra serves as the research consultant and regional nurse leader at the American Red Cross. She is a content expert for interprofessional disaster nursing through the American Nurses Credentialing Center, which governs the content of national certification examinations.
"I feel especially proud to have such an outstanding faculty member in the College of Nursing and Health," said Mainous. "Her exemplary record is particularly impressive given the fact that she has been employed by Wright State less than three years."
Series: Faculty Awards for Excellence 2016