For hundreds of incoming Wright State University students, it was a warm welcome. Well, it was a bit more than that.
The students were greeted with smiles, handshakes, back pats and congratulatory fist bumps. There were snacks, music, balloons and souvenir photos. And the students walked away with gold-stickered certificates making them official Raiders.
Nearly 700 incoming freshmen crowded into the Student Union on May 1 for Wright State's first Signing Day — part ceremony, part Mardi Gras.
The Student Union Apollo Room teemed with new students, many of them taking selfies to record the milestone in their lives and post on social media. Colleges, clubs and departments staffed information tables. College deans floated around the room, interacting with students and parents.
"When I walked into the room for the first time, I was so heartwarmed," said Jen McCamis, director of undergraduate admissions. "We are excited to welcome students to campus to celebrate their decision to be a Wright State Raider."
Students signed certificates at tables up on a stage, were individually congratulated and welcomed by Student Government Association President David Baugham and got their first official Wright State photo. It was also an opportunity for them to sign up for Orientation, take care of their needs regarding placement tests and financial aid and to meet faculty, advisers and fellow students.
"The personal connection is what matters," said Baugham. "They are going to have a wonderful future, a community of friends here, and I'm more than excited to start that off."
Incoming student Andrea Acevedo, originally from Puerto Rico, plans to major in business management.
"My favorite thing was taking pictures and making this new step of my life official," she said. "I'm just very excited to see other people here that are as excited as I am to be part of Wright State."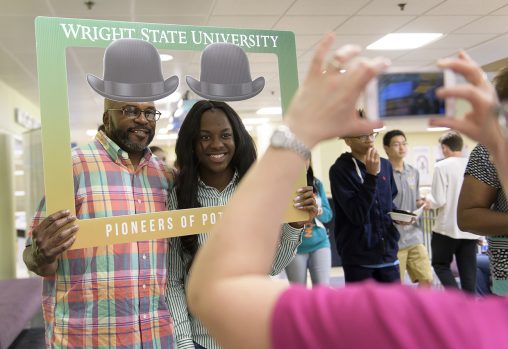 Christopher Wells, of Cincinnati, was accepted into Wright State's theatre program.
"It's a big relief," he said. "It's been a long, hard application and audition process for college theatre programs. Now it's official. Now I'm coming here, and I can't wait to get started."
Wells' mother, Patricia, said it was thrilling to share such a special day with her son.
"It takes me back a little bit to my days in college," she said. "So it's exciting. It's good memories, and I'm happy he's getting to this stage in his life."
Hunter Toler, of Fairborn, who plans to double major in mechanical engineering and biology, said he received a lot of good information and met a lot of good people.
"Now I know what I've got to do," he said. "Wright State rocks."