Wright State students, faculty and staff learned about opportunities to give back to the community at the We Serve U Volunteer Fair on Sept. 12 in the Student Union Atrium.
The sixth annual fair hosted 28 nonprofit organizations for which the Wright State community members can volunteer.
Hosted by Wright State's We Serve U, the event encouraged students to volunteer for local organizations throughout Raider Country. Representatives from organizations such as Habitat for Humanity, Hannah's Treasure Chest, Homefull, YWCA and a Special Wish were in attendance, as well as Wright State organizations such as the Friendship Food Pantry, Student Government Association and the Center for Service-Learning and Civic Engagement.
"We feel that the Volunteer Fair provides Wright State students, staff and faculty with an opportunity to learn about the organizations that mean the most to them. Many people want to volunteer but don't know where to start," said Joanie Hendricks, We Serve U co-chair. "The Volunteer Fair is also a fantastic resource for students who may need to complete service hours for a class, scholarship or organizational requirement."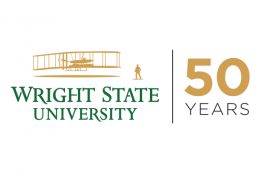 Originally founded as a branch campus of The Ohio State University and Miami University, Wright State became an independent institution in 1967. It celebrates its 50th anniversary in 2017, culminating with a special Homecoming celebration Sept. 29 through Oct. 1.