More than 500 people are expected to attend the sixth annual Raidersgiving celebration, where Wright State community members can eat together for Thanksgiving, even if they are not going home for the holiday.
Raidersgiving will take place on Nov. 23 from noon to 2 p.m. in the McLin Gym in the Wright State Nutter Center. Free shuttle service will be offered to and from the Student Union.
Attendees will enjoy a traditional Thanksgiving dinner, as well as games, making cards for Dayton Children's Hospital patients, Food Pantry collection and shoe donations for Samaritan's Feet, which is a group that distributes shoes to those who need them. Community members who attend the event can sign a card for the donors who provided money for the dinner.
Since 2012, when Wright State switched from quarters to semesters, the university has hosted a Thanksgiving dinner for students, faculty, staff and alumni. Twenty-two students who did not go home for the break attended the first Raidersgiving, which was hosted in the Forest Ridge Community Center. Since then, the event has expanded to the McLin Gym to accommodate the more than 500 people who participate.
Craig This, director of institutional research and analytics, said that all students, faculty members, staff members and or alumni are welcome.
"Our motto is 'No Raider Eats Alone,' and that pretty much sums up why I feel it is important," This said. "There are students, staff, faculty and alumni that aren't able to go home for the holiday. We don't know why and it's really not ours to know why. So we provide them with a place to sit, eat and make some new friends."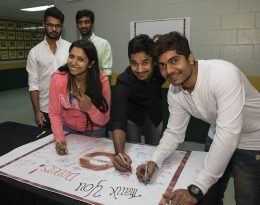 To help fund Raidersgiving, Wright State launched the Adopt-a-Raider program, which encourages participants to donate $10 to cover the cost of a meal for one person. Adopting a Raider helps alleviate the cost of Raidersgiving and allows a Raider get a good Thanksgiving dinner.
To sponsor a meal, visit wright.edu/give/raidersgiving.
Numerous Wright State organizations, including as the Wright State University Foundation, Chartwells, Residence Life and Housing, the Nutter Center, Unclassified Staff Council and Classified Staff Council, are involved in planning Raidersgiving.
Learn more at wright.edu/event/raidersgiving.