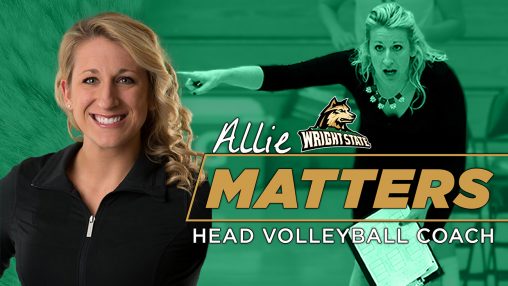 Allie Matters, a seven-year first assistant coach at Seton Hall, has been named the head volleyball coach at Wright State University.
Matters helped coach Seton Hall to its most successful season in program history in 2014, culminating with the program's first-ever berth in the NCAA Tournament. Matters and head coach Allison Yaeger were also named Big East Coaching Staff of the Year. The Pirates finished with a 28-8 overall record, the second-most wins ever at Seton Hall. Seton Hall nearly doubled its record for Big East victories with 15, and finished second in the final conference standings after being predicted to place sixth.
Yaeger was a standout player for Wright State from 2000 to 2003, where she was named honorable mention AVCA All-American as well as Horizon League Defensive Player of the Year in 2003.
"First, I would like to thank Coach Yaeger for preparing me so well, and encouraging me to pursue opportunities to further my career," Matters said. "I am extremely grateful and honored to be selected as the next head volleyball coach at Wright State University. I want to thank Bob Grant, Joylynn Brown and the search committee for giving me this opportunity. Joylynn is an alum and former coach of the program herself and her passion for the student-athletes and culture at Wright State is tremendous. Working directly with her is an honor. It's easy to be excited for the future of this program. I can't wait to begin working with the team and recruiting future Raiders."
Matters, a Buffalo native, played at Seton Hall from 2006 to 2009, racking up numerous records and leading the Pirates to its first Big East Championship appearance in 15 years as a senior. One of the greatest players in Pirates' history, she spent her first two seasons playing outside hitter, leading the team in kills and attacks both years, before moving to her natural libero position. A two-time All-Big East Second-Team selection, Matters recorded double-digit digs in the final 68 matches of her career with the Pirates, the nation's longest active streak at the end of the 2009 season. Matters was named Seton Hall Female Athlete of the Year after the 2008 season and Seton Hall Freshman Female Athlete of the Year the 2006 season.
"I cannot wait for Coach Matters to bring her passion for volleyball to Wright State," said Joylynn Brown, associate director of athletics. "She is a proven winner at a high level, both as a player and coach, who has extensive knowledge of our program and this region. Throughout the interview process, it became very clear she was prepared to be a head coach and would be a great fit here. Her coaching philosophy matches our mission statement perfectly: Treating our student-athletes as people first, students second and athletes third. She is ready to lead the program to prominence in the Horizon League."
At Seton Hall, Matters was responsible for recruiting, scouting, organizing team practice, coordinating travel and was director of the program's summer camps. Under her tutelage, liberos Alyssa Warren and Tessa Fournier combined to be named Big East Libero of the Year five times.
Prior to returning to Seton Hall as assistant coach, Matters coached at Canisius for two seasons in the same role.