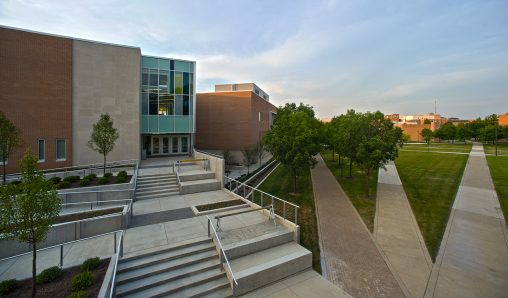 Wright State University will participate in a new effort with 129 other public universities and systems to increase college access, close the achievement gap and award hundreds of thousands more degrees by 2025.
Participating institutions will work within "clusters" as they implement innovative and effective practices to advance student success on their campuses. Collectively, the institutions enroll 3 million students.
The collaborative effort, called Powered by Publics: Scaling Student Success, is organized by the APLU, which announced the initiative at its 131st annual meeting in New Orleans.
Powered by Publics represents the largest ever collaborative effort to improve college access, advance equity and increase the number of college degrees awarded. In addition to committing to those goals, participating institutions will share aggregate data demonstrating their progress to help spur lasting change across the higher education sector.
"Participating in Powered by Publics is part of Wright State's overarching goal to help our students increase their success in their coursework, earn their degrees on time and increase overall graduation rates," said President Cheryl B. Schrader.
Wright State is part of the initiative's northern cluster, which also includes universities in Ohio, Illinois, Maine, Maryland, Michigan and Minnesota.
Wright State will work with these partner universities to share innovative, high-impact practices that increase student success nationwide.
"Wright State is proud to be one of the 12 change-ready universities in the northern cluster. We will work with our partner universities and the APLU to eliminate achievement gaps, increase the number of adults with degrees and improve student success across the nation," said Provost Susan Edwards.
Wright State and its partner universities will focus on five vital areas to improve student success: improve social support systems for students to complement existing academic support structures; continue to address affordability issues; review the curriculum and academic support efforts to ensure student success; decrease the time it takes for students to graduate; and use better data and predictive analytics to support students and keep them on track.
The work ahead will unfold over the next five years as Wright State addresses one to two projects each year.
Tim Littell, executive director of student success and campus lead for Powered by Publics, said the initiative will build on Wright State's Campus Completion Plan, which the university submitted to the state this fall. The Campus Completion Plan outlines strategies to enhance student learning, progress and degree completion.
"The goals of Powered by Publics are consistent with our Campus Completion Plan and help support our overarching goals for student success," Littell said.
A core team of Wright State leaders will oversee the university's participation in Powered by Publics: Littell; Edwards; Denise Anderson, planning specialist in the Division of Student Success; Amy Barnhart, assistant vice president and director of financial aid; Jennifer McCamis, director of admissions; Don Miller, director of orientation; and Aaron Skira, assistant director and chief data architect in the Office of Institutional Research and Analytics.
Nationally the effort will be overseen by APLU's Center for Public University Transformation, which the association created this year to help drive change in public higher education. A core value of the center and its participating institutions is a commitment to sharing data and innovative practices to help drive progress across public higher education. The center will regularly disseminate lessons learned from participating institutions to the broader public higher education community.
A national advisory council of higher education leaders will provide a strategic vision and guidance for the center, which will work to build on and complement existing initiatives around institutional change and student success.
"Over the past few years, we've witnessed a real and growing enthusiasm among public university leaders to advance college completion nationally," said Peter McPherson, APLU president. "We have to seize the moment and mobilize institutions to improve not just college access, but also equity in student outcomes and the number of students who earn degrees. That's what Powered by Publics is all about and why we're thrilled to work with our member institutions toward such an important national goal."
More information on Powered by Publics: Scaling Student Success is available at aplu.org.