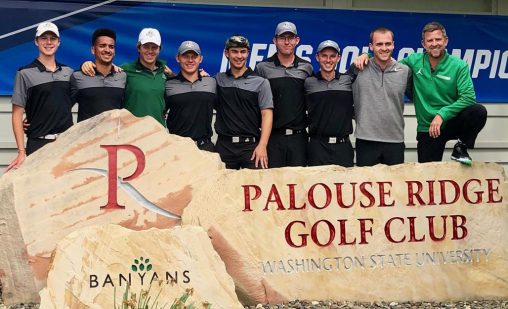 The Wright State golf team ended its NCAA tournament run that included the Raiders' first Horizon League championship in 15 years.
The Raiders placed 13th as a team in the Pullman, Washington, regional, shooting much better on the third day at 302-297-290=889. Bryce Haney led the team with scores of 70-76-71=217, finishing tied for 57th place, while Austin Schoonmaker placed 62nd with rounds of 75-74-72=221. Senior Mitch Lehigh finished his college career strong as he was 5-under for the back nine holes and eagled his final hole as a Raider.
"It's been a pretty cool ride we went on this year. Another coach pulled me aside this morning and reminded me to remember what we tell our players — it's about the process," head coach Brian Arlinghaus said. "Building a program is going to take some time, and we just have to keep making baby steps, believing that what we're doing is working, and when we look back we can see how far we've come. This week was a special week for these players, and I feel really, really, really good about the direction that this program is headed."
The Raiders won Horizon League/MCC championships in 1996, 1997, 2000, 2003, 2004 and 2019, with a Mid­Continent (now Summit League) title in 1993, making four NCAA appearances prior to this season.
The top five teams, led by first-place Texas A&M, and the best individual not on those teams advanced to nationals on May 24-29 at Blessings Golf Club in Fayetteville, Arkansas.
Team standings:
1. Texas A&M, 269-268-270=807
2. Brigham Young, 272-271-266=809
3. Oklahoma, 270-270-270=810
4. Georgia Tech, 271-270-277=818
T5. Colorado State, 279-269-271=819
T5. South Carolina, 275-277-267=819
7. Michigan State, 273-283-272=828
8. UCLA, 275-276-278=829
T9. Kent State, 276-278-278=832
T9. Florida, 275-279-278=832
T9. Purdue, 275-281-276=832
12. Northern Colorado, 283-274-282=839
13. Wright State, 302-297-290=889
14. Iona, 290-309-303=902
Wright State individual scores:
T57. Bryce Haney, 70-76-71=217
62. Austin Schoonmaker, 75-74-72=221
63. Mitch Lehigh, 79-73-73=229
T65. Cole Corder, 78-76-74=228
74. Nathan Arnold, X-74-74=148