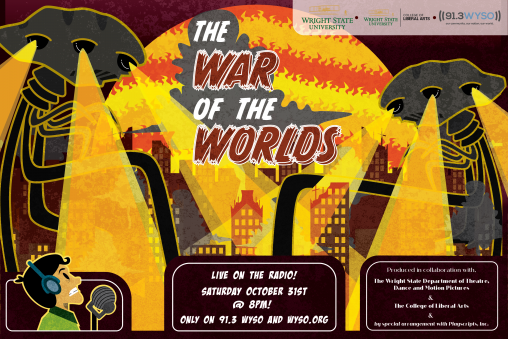 Wright State University performing arts students will present an updated broadcast of Orson Welles' famous radio drama "The War of the Worlds" on Halloween night on WYSO Public Radio.
"The War of the Worlds" will be performed live on Saturday, Oct. 31, at 8 p.m. on 91.3 FM and WYSO.org. The broadcast will not be available on-demand so listeners must tune in to hear it live.
The production will be performed live from the WYSO studios by 12 Wright State students, who will be accompanied by live and digital sound effects created by sound design students. It also will feature WYSO's Rev Cool.
"It's good old-fashion, old-time live radio," said Joe Deer, chair of the Department of Theatre, Dance and Motion Pictures.
"The War of the Worlds" is produced by Deer; Luke Dennis, general manager of WYSO; and Juliet Fromholt, director of digital and programming strategy at WYSO. It is directed by Marya Spring Cordes, associate professor in acting and musical theatre.
Like the original broadcast of "The War of the Worlds," the Wright State and WYSO production was intentionally planned to air for Halloween.
"This is our gift to the Miami Valley since people will not really be able to do trick or treating in the ways they have in the past," Deer said. "We wanted to give all of the Miami Valley a special treat with a little trick inside of it."
Orson Welles directed and performed "The War of the Worlds" as part of the CBS Radio series "The Mercury Theatre on the Air" on Oct. 30, 1938. The story is told as a simulated live radio newscast reporting on a hostile Martian invasion of Earth. Some listeners who did not hear the beginning of the broadcast did not realize that the story was fiction and thought the world was being invaded by aliens. The broadcast was so convincing a minor panic broke out in some communities.
For the broadcast on WYSO, Deer and Dennis updated the script, setting the story in the Miami Valley in 2020 and adding references to local landmarks and geography, including Wright State's Dayton Campus. Reporting on the alien invasion is told over the WYSO airwaves during "Around the Fringe" with Rev Cool.
While the story is set in current times, the plot remains true to the 1938 script.
"It will still very much feel like the original," Deer said. "There are very long passages that are unchanged."
Deer said he's looking forward to collaborating with WYSO on the production.
"I'm happy that in the midst of what is a pretty dark period for all of us we get to do something that is fun, joyful, playful," he said.
The production will feature 11 student actors playing nearly 20 roles: Donya Rahimi as Announcer/Narrator; Ricky Yanotti as Announcer 2 and Operator 2; Joshua Fisher as Announcer 3 and Gunner; Desmond Kingston as Announcer 4, Policeman and Operator 4; Hailey Marshall as Producer / WYSO personality Carla Phillips; David Bays as Richard Pierson; Jacob Jones as Wilmuth and Operator 3; Cole Frasher as Brigadier General Montgomery Smith and Operator 5; Sophie Hardy as V.P. Harriet McDonald / Secretary of the Interior and Operator 1; Megan Ledford as Captain Lansing / Officer; Eliana Taub as Commander Voght Observer; and Mady McCabe as Stranger.
Design and technology majors Aaron Poland and Greg Davis will produce the live sound effects in the studio during the broadcast.
The production team includes: music director/composer Wade Russo; sound advisor James Dunlap; sound designer Aaron Poland; sound board operator Grace Randall; voice and speech/radio advisor Deborah Thomas; foley artist advisor Kevin Anderson; and foley collaborator/fabricator John Lavarnway. Mechanical engineering major Grace Beckman is the stage manager.
Rehearsals have taken place in COVID-19-safe environments, including online and in small groups and with proper physically distancing when done in-person. WYSO has incorporated protocols in the studio to ensure the student-actors can safely perform.
Wright State Theatre performances have been on hold since the university suspended on-campus events last March. Deer said producing "The War of the Worlds" is a great way to engage students with a unique project.
"For me, the most famous radio broadcast of a dramatic work is 'The War of the Worlds,'" he said. "It's a wonderful script. It's got a great mythology around it, and I thought it would be wonderful to adapt to fit our community in our time."
Deer and Dennis have long sought to find an opportunity for the Department of Theatre, Dance and Motion Pictures and WYSO to collaborate.
"For years we have talked about collaborating on a radio drama that uses Wright State students," Dennis said. "It was the environment that we're in that pushed us to define what the collaboration could be because we knew we could do radio drama in a COVID-safe environment."
Deer and Dennis say "The War of the Worlds" production will not be the only time Wright State and WYSO collaborate.
"Joe and I see this as the beginning of an ongoing collaboration," Dennis said. "This is our pilot, our test."