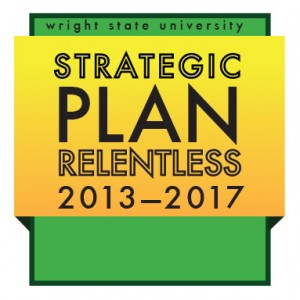 Like most organizations, we are guided by a strategic plan. But unlike many organizations, our strategic plan is created through the thoughtful participation of the entire campus. Faculty, staff, students, alumni, and our community partners have graciously given of their time to help to shape our past strategic plans. Now, we are about to undertake another campus-wide strategic planning exercise.
This list of our recent accomplishments is long and distinguished. We are the home of seven Ohio Centers of Excellence. Our Wright State Research Institute is helping to drive research and commercialization in the region. Our Boonshoft School of Medicine trained the majority of the family practice physicians in the Dayton and west central Ohio regions. Our College of Nursing and Health is making it easier for working nurses to earn their bachelor's degrees through a redesigned program that combines online learning with individual support.
We are in the process of constructing a neuroscience and engineering collaboration facility that will be state-of-the-art for some innovative research and innovative researchers. The work that is being done in Kno.e.sis and Experimental Sensor Physics is the envy of the world. The new Classroom Building and the Commons Building will serve our faculty and students for years to come.
These things do not happen by accident. This is what can happen when great people transform opportunities into action through thorough planning. Our planning process is quite simple. It is grounded in some basic principles:
1.  

The strategic plan will build on strengths

. Too often, planning models start with what is wrong and how they should be fixed.  At Wright State, the university is well positioned and successful on many levels. The challenge then becomes how those successes can be leveraged across campus. Begin with what is right and look for ways to replicate that success.
2.  

The strategic plan will be evolutionary, not revolutionary

. The university is a learning organization. It takes the results of past efforts to form the development and implementation of future efforts. A revolutionary approach that fundamentally alters the institution risks making historical data unusable. An evolutionary approach celebrates what is right with the organization.
3.  

The strategic plan will be completed in a timely manner

.  Although there are tremendous benefits derived from the planning process, the overwhelming majority of the benefits derived from a strategic plan come as a result of its implementation. At the end of each year of implementation, the plan will be revisited, new learning will be incorporated into the plan, and the plan will be revised. Consequently, once implementation begins, our plan will never be more than one year out of date.
4.  

The strategic planning process will be accompanied by a comprehensive communications plan

. A communications plan is being constructed that will solicit broad campus involvement, create inputs to the process, and disseminate results in order to ensure that the strategic plan is our guiding document.
5.  

The strategic plan will establish line of sight for every member of the university community

. Every job at this university is important, and every person doing the job is important. Through the plan, we are hoping that you can see how your work contributes to the success of the university. That, however, is only a part of the line of sight. Equally important is making sure that everyone else understands how their success was impacted by your work. It is so easy to get bogged down in the day-to-day work that we are all doing and forget why the work is important. President Hopkins is very intentional about promoting the great work of individuals and departments. Whether it is through his participation in monthly Faculty Senate meetings, regular lunches with faculty and staff, or his weekly letter, the president believes that, starting with him, and whenever possible, we should celebrate the great work of our colleagues.
As we move forward with revising our Strategic Plan, I want to invite you to participate to the extent that your schedule allows: visiting our strategic planning website (www.wright.edu/strategicplan); working with your director or department chair to develop a plan for your unit; attending any of a number of public presentations–Faculty Senate, Student Government, Classified Staff Advisory Council, Unclassified Staff Advisory Council, open forums; or contacting me directly (robert.sweeney@wright.edu).