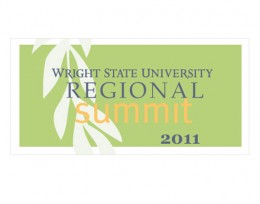 The Wright State University Regional Summit started in 2007 with a goal of connecting the university with industry thought leaders from the Dayton region. It was an effort to find out how Wright State could better serve their needs during both good and bad economic times.
This year's event is titled Wright State Means Jobs. Participants will learn about unique programs and resources that are helping to serve our neighboring communities.
Even though Regional Summit is exclusively online this year, participants will fill out surveys and share their thoughts and insights about each video.
Topics include:
Ohio Senator Chris Widener: Higher education's unique role as a valuable partner in job creation in our area
Dawne Dewey, University Special Collections and Archives: Wright State protects local history, which attracts new business
Cathy Sayer, Service-Learning: Wright State is training the social work and outreach professionals of the future for service in the Dayton region
Jim Runkle, the Wright State woods: Wright State's wooded areas are a unique resource vital to quality of life in our area
Jack Dustin, Center for Urban and Public Affairs: Wright State assists with workplace problems, thereby saving jobs and helping create others
Marlena Akhbari, Financial Services: Wright State is a key player in meeting a growing demand for financial professionals in the region
Greg Homan, Lake Campus Agriculture Program: Wright State's Lake Campus is filling a need for students who thought they'd never go to college because it appeared to be too far away from the family farm
Veteran and military-connected students: Wright State is playing an integral role in placing veteran and military students in co-ops and internships that lead to jobs
Larry James, School of Professional Psychology: Wright State has embarked on several mental health projects that will create treatment centers in blighted areas of our community and create jobs