Between having a father who's an aeronautical engineer and attending a university named for the Wright brothers, Elizabeth "Lizzie" Dardis seems almost destined to follow a path linked to aviation.
No surprise, then, that the Wright State University graduate student in public history is over the moon about a 10-week internship with the Smithsonian Institution's National Air and Space Museum in Washington, D.C.
"I've been interested in aviation history all my life," said Dardis, who received her bachelor's degree in history from The Ohio State University in 2010.
Internships aren't lucrative, but Dardis said this is a dream job for someone with her interests. "Not only is the Smithsonian the biggest and one of the most respected museum organizations in the world, but the Air and Space Museum specifically is right up my alley," she said.
Dardis is working with the Collections Division at the National Museum's Garber Facility in Suitland, Maryland. Her work involves preparing small objects for the move from Garber, built as a temporary storage location in 1970, to the new permanent collections facility at the Steven F. Udvar Hazy Center in Chantilly, Virginia.
Dardis assesses the conditions of old air and space objects, ranging from radio and antenna equipment to aviators' personal items, to evaluate the proper storage needed.
Some parts might seem mundane—an old radio coil, for example—until Dardis researches the stories behind them. The radio coil turned out to be from air pioneer Charles Lindbergh's personal airplane.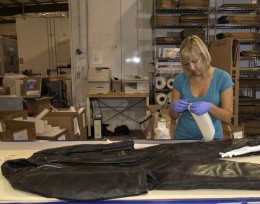 "Getting an internship at the National Air and Space Museum or any Smithsonian museum is definitely coveted. There's a lot of competition for them from students across the country and probably around the world," said Dawne Dewey, director of public history and head of special collections and archives.
Paid internships are "very hard to find anywhere these days," Dewey said. The Smithsonian's provides a stipend that allows Dardis to cover her living expenses.
Dardis said an undergraduate internship at the National Museum of the U.S. Air Force on Wright-Patterson Air Force Base helped qualify her for the Smithsonian work. "The National Museum is an important community partner with our program. The staff there have mentored our students, taught classes, and provided great learning opportunities," Dewey said.
Dardis hopes to carry her summer experiences with her as she pursues a career in museum or archive work involving military history.
More about Wright State's public history program