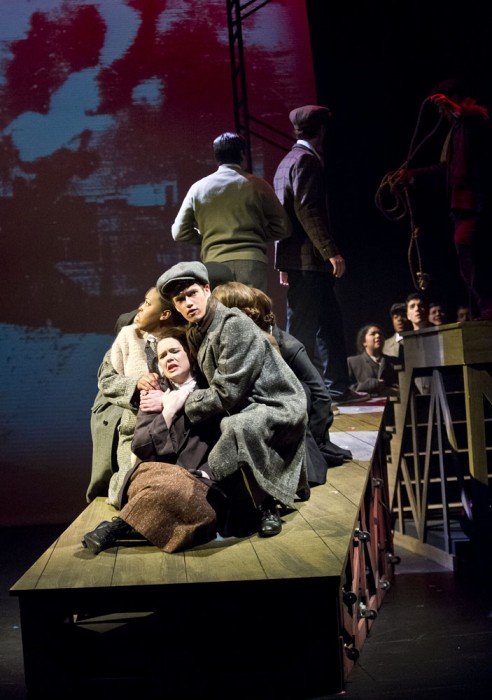 Crowds at a packed Festival Playhouse are time traveling back to the early 20th century to one of the most defining moments in Dayton's history, the great 1913 flood.
Starting Jan. 24, the Wright State Theatre department began performing its re-mounted, award-winning production of 1913: The Great Dayton Flood to commemorate the 100th anniversary of the event. With 15 performances, the show runs through Feb. 10.
The play is based on the Pulitzer Prize–nominated book, Time of Terror: the Great Dayton Flood by the late Allan W. Eckert, to whom the production is dedicated. The play also includes stories from flood survivors, as well as those of a traveling theatre company who had been performing in the Victoria Theatre at that time.
"This has been one of the most thrilling and rewarding rehearsals I have ever had with this astonishing cast. We've been to libraries and archives, to flood sites, and even to the graveyard where many of the victims and survivors of the flood are buried," said Stuart McDowell, chair and artistic director for the Department of Theatre, Dance and Motion Pictures. "Seldom do you get to put on a play that's based on regional history—upon an event that redefined Dayton, forever."
The new production includes an original score by the musical team of Michael and Sandy Bashaw that takes audiences through the harrowing and heroic journeys of many Daytonians in March of 1913.
The original Wright State Theatre production won a record number of awards from the Kennedy Center American College Theatre Festival, where it played in 1997 before returning to Dayton's Victoria Theatre in the fall of 1997 and played to four sold-out houses before audiences that included many survivors of the Dayton flood.
1913: The Great Dayton Flood is directed by McDowell (Phantom of the Opera, Jekyll and Hyde, Hello Dolly!). The set is designed by Pam Knauert Lavarnway (Funny Girl, Hairspray, August: Osage County), lighting/projections by Andy Balmert (Funny Girl, Merchant of Venice) and Danielle Ferguson (The Miracle Worker, Little Women), costumes by Mary Beth McLaughlin (The Miracle Worker, Merchant of Venice, Death of a Salesman), properties by John Lavarnway, and sound by Andrew Stroud (Funny Girl, The Merchant of Venice).
On the stage, this production features Lawrence Dunford (William G. Sloan), Brandon Kinley (Frank Thoro), Tyrell Reggins (Rev. Primus Alston), Sean Jones (John H. Patterson), Jim Miller (George McClintock), William Mendleson (Ray Stansbury), Tyler Simms (Edward Hanley), Owen Kresse (James Porter), Stephen Kell (J. Harvey Kirkbride), Ben Tracy (Charles Hopkins), Cyndii Johnson (Mrs. Stanton), Anita Hill (Hatti Sloan), Taylor Montgomery (Mrs. John Jacob), Jasmine Easler (Phyllis Sloan), Elizabeth Romey (Dorothy Patterson), Kelsey Pohl (Minnie Althoff), Paige Dobkins (Ione Bright), Nicole Tompkins (Ida Porter), Caroline Gruber (Lib Hedges) and Samantha Kerger (Shirley Porter)
Performances are January 24, 30, 31 and February 7at 7:00 p.m.; January 25, 26 and February 1, 2, 8 and 9 at 8:00 p.m.; and January 27 and February 2, 3, 9 and 10 at 2:00 p.m. Tickets are $20 for adults and $18 students and seniors.
For tickets and theatre information call the Box Office at (937) 775-2500.