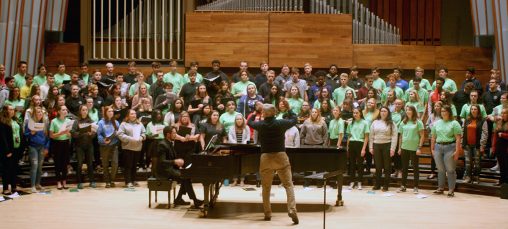 Wright State University serves as a symphony hall for talented high school musicians, who bring their violins, saxophones, trumpets and voices to campus to sharpen their skills.
Over the course of a year, hundreds of students attend festivals and honor band events hosted by Wright State's School of Music.
"One of the primary expectations is to provide high school students from Ohio, Indiana and Kentucky with an outlet to work with other like-minded artists in their chosen area and be exposed to new music, new approaches to performing and networking," said Daniel Zehringer, chair of the School of Music in the College of Liberal Arts.
During fall 2019 semester alone, the school hosted winds festivals, which drew nearly 100 flute, clarinet, bassoon and oboe players; the Madd River Vocal Arts Festival, which attracted more than 80 singers; the Sax Festival, which brought in more than 60 saxophone players; and the String Camp, which drew more than 25 players.
"Oftentimes, students from smaller school districts may not have the opportunity to sing in a large choir of mixed voices or perform in a wind symphony or orchestra with a full complement of instrumentation," said Zehringer. "At the numerous School of Music festivals, they are provided with these opportunities."
Zehringer said the festivals also serve as a powerful recruiting tool.
"Many of the attendees will develop a strong relationship with our applied faculty that lead to them attending Wright State and having a successful career as a music educator or performer," he said. "Our ensembles are filled with students who are music majors, minors and non-majors from every college who say that because of their association with an honor band or festival that they attended, they felt comfortable choosing Wright State."
And many high school musicians are strong students. According to a 2019 study published in the Journal of Educational Psychology, high school students who take music courses score significantly better on math, science and English exams than their non-musical peers.

The success of the Wright State festivals is due to a team effort by School of Music faculty.
Shelley Jagow, professor of music, was in charge of the sax festival; Bill Jobert, senior lecturer, ran the winds festival; Franklin Cox Jr., associate professor, oversaw the strings festival; and Hank Dahlman, director of CELIA (Collaborative Education, Leadership and Innovation in the Arts), ran the vocal arts festival.
Gretchen McNamara, senior lecturer of music, will organize the Brass Festival, which will be held spring semester. It will draw high school, collegiate and professional players on all five brass instruments and include a solo competition. It usually attracts well over 100 students Ohio, Indiana and Kentucky.
The Wright State University Honor Band, which will be held in February and run by Jagow, is the largest of all of the festivals held at the School of Music. It will feature a high school honor band as well as a middle school band. It is expected to draw more than 400 high school students as well as 80 high school band directors.
In addition to the honor bands and festivals, the School of Music presents more than 100 concerts, recitals and master classes every academic year in Shuster Hall. Most of these events are free and open to the public. A complete list can be found on the School of Music website.