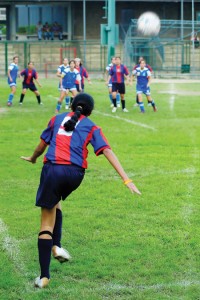 Wright State Orthopaedics will offer an educational session about concussions on Tuesday, April 23, at 7 p.m., in the Family Medicine Conference Room in the Wright State Physicians building on the campus of Wright State University (725 University Blvd.). The session, "Concussion Update," is free and open to the public.
Corey Ellis, M.D., director of the Wright State Physicians Concussion Clinic and assistant professor of orthopaedic surgery, sports medicine and rehabilitation and family medicine at the Wright State University Boonshoft School of Medicine, will speak about the Return to Play law, which goes into effect on April 26.
Under the Return to Play law, coaches and referees will be required to pull young athletes out of practices or games if they show signs or report symptoms of a concussion. They will not be allowed to play until they are cleared by a physician or authorized licensed health care provider.
"If an athlete has a concussion, his or her brain needs time to heal," said Ellis, who completed a pediatric sports medicine fellowship at Cincinnati Children's Hospital and is board certified in primary care sports medicine and family medicine. "A health care professional experienced in evaluating for concussion will be able to create a personalized treatment plan allowing for safe return to sports."
In addition to the April educational session, Wright State Orthopaedics will offer a session on May 21 at 7 p.m. at the Wright State Physicians building about common problems of the musculoskeletal system. For more information and to register for the April 23 event, contact Cindy Dempsey at csdempsey@mvh.org or (937) 208-2128.