Music lovers and history enthusiasts can learn more about World War I and culture during the wartime at a concert kicking off an ambitious yearlong commemoration of the start of the Great War.
The concert, "While Your Hearts Are Yearning: Popular Songs of the Great War," begins at 7:30 p.m. Saturday, Oct. 11, in Schuster Hall in the Creative Arts Center on Wright State University's campus. The concert is free and open to the public.
The performance is the first in a series called "A Long, Long Way: Echoes of the Great War." The project is organized by Wright State's Ohio Center of Excellence in Collaborative Education, Leadership and Innovation in the Arts (CELIA) and three faculty members who spent the 2014 Spring Semester developing "A Long, Long Way" while serving as CELIA Fellows.
Focused on the intersection of the war and the arts, the project will present music, poetry, exhibits and film designed to inspire understanding of WWI. It involves faculty, staff and students from the College of Liberal Arts and others in the Miami Valley.
"While Your Hearts Are Yearning," which is organized by Christopher Oldstone-Moore, Ph.D., senior lecturer in history and a CELIA Fellow, will feature 12 songs from the WWI era.
Selected by Oldstone-Moore, the tunes were sung from the warfront and home front, representing the different dimensions of the war experience, ranging from patriotic hope, fearful sadness, sardonic bitterness and sober relief.
"I hope people cry, I hope people laugh, and I hope people realize that it was a trauma that changed everybody," Oldstone-Moore said. "You can't think about the world the same" after the war.
Listening to the songs people sang during World War I is an informative and powerful way to learn about people's experiences during the conflict, he said. During the period, people regularly sang together and many knew how to play an instrument.
Singing was "one of the primary ways in which people expressed themselves," he said. "And I don't think we can really understand World War I if we cannot sing and listen to the songs."
The concert will include both popular songs from the war — like "It's a Long Way to Tipperary," "Your King and Country Want You," "Goodbye Broadway, Hello France" — and lesser-known tunes, including "trench" songs — "The Lousy Lance-Corporal," "Mademoiselle from Armentieres," "Far, Far from Ypres."
Many published songs were patriotic or written to soothe people at home, especially those composed later in the war. American patriotic songs, like "When You Come Back" by George M. Cohan, are often upbeat and uplifting.
The concert's name comes from a line in "Keep the Home Fires Burning," a popular song written to bolster the feelings of people at home.
"The song captures the feeling of a terrible, never-ending war, but also that there will be an end, a silver lining," Oldstone-Moore said.
Trench songs were sung by soldiers often while they marched or did chores. Many were spontaneous, their lyrics changed often and were distributed through primitive trench journals published exclusively for soldiers. "It's true folk music," Oldstone-Moore said.
"The songs were often sarcastic, bawdy, lewd and angry, which is an expression of the life of a soldier," he said. "They're taking off their frustrations of being on the front."
The concert will feature Wright State student singers, including the Collegiate Chorale. The vocalists are coached by music faculty Kimberly Buczek, Peter Keates, Ginger Minneman and Kim Warrick, with faculty member Steve Aldredge accompanying on piano.
Kristin Sobolik, dean of the College of Liberal Arts, said she has been impressed with how CELIA has collaborated across disciplines on important topics of interest to faculty, students and the community.
"CELIA's focus this year on the commemoration of the advent of WWI is very timely and involves participation both within Wright State and the broader community," she said. "The integrative programming is exceptional and is exactly how these important topics should be analyzed, reconstructed and deconstructed. Once again, CELIA is taking the lead in these interdisciplinary inquiry zones."
Organizing a concert based on a major historical event is natural for Oldstone-Moore, who has been involved with music and history throughout his life. He plays piano and violin and has sung in the Springfield Symphony Chorus, Springfield Chorale Arts and his church choir.
He also has incorporated music into his classes when possible and has organized a workshop for schoolteachers on using popular songs to teach American history.
So when CELIA began discussing WWI, Oldstone-Moore said, the concept for "While Your Hearts Are Yearning" was obvious.
"World War I is ideal because it's a contained event and there's truly an outburst of song," he said. "This is something that people just needed to sing about and they did."
More programs in "A Long, Long Way"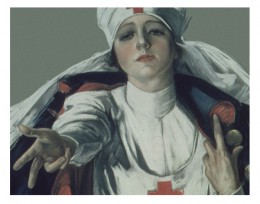 In addition to "While Your Hearts Are Yearning," "A Long, Long Way" features other major events in 2014–15:
Nov. 2: "Holidays in the Heartland," annual concert saluting veterans and Armistice Day

March 9–14: Distinguished Visiting Artist Keith Lockhart, conductor of the Boston Pops and the BBC Concert Orchestra

March 13–14: Britten's "War Requiem," with guest conductor Keith Lockhart, the Dayton Philharmonic Orchestra and Chorus, Wright State Choirs, Kettering Children's Chorus and guest soloists

April 24: "Poetry and Music Concert," classical music inspired by WWI
View the complete schedule at wright.edu/WWI.