For more than 40 years, "Funky Winkerbean" has been a staple comic on the funny pages nationwide. Brimming with tongue-in-cheek humor and real-world drama, the strip has captivated readers of all ages.
Its creator, Tom Batiuk, former Pulitzer Prize nominee, breaks the typical mold of punch-line-based comic strips by delving into serious and controversial subjects like teenage pregnancy, suicide, gun violence, domestic abuse and, perhaps most notably, cancer.
On Monday, Oct. 13, Batiuk will appear at Wright State for a panel discussion titled "Lisa's Story: Cancer in Popular Culture." The event will be held at 7 p.m. in the Apollo Room in the Student Union. It is free and open to the public.
The panel is a part of a series of events organized by Wright State's University College tied to this year's common text, "The Fault in Our Stars" by John Green. Both Green's novel and "Funky Winkerbean" use cancer as a device to spur readers to consider the disease in a different light.
Sponsored by the Office of the President, First-Year Programs and the Common Text Program, the panel discussion will examine the controversy surrounding the appropriateness of exploring serious topics in comic strips and other forms of modern culture. Specifically, Batiuk will discuss a story arc in which he depicted a main character with breast cancer.
Lisa Moore, a character in many of Batiuk's storylines in "Funky Winkerbean," was first diagnosed with cancer in a strip in 1999. For the next eight years, Batiuk would periodically return to Lisa's ongoing battle with the disease. Following a mastectomy and numerous chemotherapy treatments, the story arc came to a close with Lisa's death.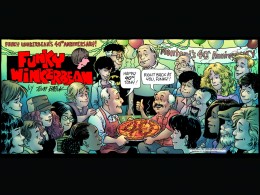 "Batiuk is using the panels as a place to make people think and approach the world's problems from another angle," said Craig This, a data analyst in the Office of Institutional Research and Wright State's resident comics expert.
"On one hand, Lisa's story is a story of perseverance — a story about a person who, against the odds, continues battling and going on living until the cancer finally defeats her," said This, who teaches a course on comic books in American culture at Wright State. "On the other hand, Lisa's story is also a love story. Despite her body being ravaged by cancer, missing hair from chemotherapy and a weakness that keeps her in bed, Les, her husband, is beside her to the end, reading her the comics from the Sunday paper."
While This is among those who praise Batiuk for tackling such a controversial topic in an unusual way, there were some who criticized Batiuk and Lisa's story for not holding true to the comedic nature of comics. In fact, Lisa's death had such a profound impact on "Funky Winkerbean" readers that Batiuk's strip was nominated for a Pulitzer Prize — something only three other comic strips have accomplished.
The panel will not only discuss the use of cancer as a subject in comic strips, but also in other forms of popular culture such as film, television, art, music and literature — like in "The Fault in Our Stars."
"The panel will show that there is more than one way to approach a serious topic," said This.
"Wright State's mission statement says that we engage in meaningful community service, and I believe that this panel does just that," he said. "If the panel thinks about cancer differently and in that sense, we may transform that person's life. To me, this is just another way Wright State educates people — we provide them with the opportunity to hear topics addressed in new and creative ways."