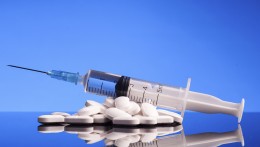 In 2014, more people in the United States died from drug overdoses than in any other year, according to the Centers for Disease Control and Prevention. Of the 47,055 drug overdose deaths in 2014, 61 percent involved some kind of opioid (prescription pain relievers or heroin).
Many communities throughout the United States are in the midst of pharmaceutical opioid and heroin epidemics. Increases in illicit pharmaceutical opioid use, such as OxyContin, Fentanyl, Vicodin and Percocet, have been associated with the risk for transition to heroin use.
To help identify predictors of transition to heroin use among young adults, researchers at the Wright State University Boonshoft School of Medicine conducted a 36-month study supported by a grant from the National Institutes of Health National Institute on Drug Abuse.
The study, "Predictors of Transition to Heroin Use Among Initially Non-Opioid Dependent Illicit Pharmaceutical Opioid Users: A Natural History Study," is among the first to identify the predictors of heroin initiation among active, non-dependent illicit pharmaceutical opioid users using longitudinal data.
The study will soon be published in Drug and Alcohol Dependence, a peer-reviewed international journal that publishes original research, scholarly reviews, commentaries and policy analyses in the area of drug, alcohol and tobacco use and dependence.
Led by Robert G. Carlson, Ph.D., principal investigator, professor of community health and director of the Center for Interventions, Treatment and Addictions Research (CITAR) in the Department of Community Health at the Boonshoft School of Medicine, a team of researchers recruited 383 young adults, age 18-23, in the Columbus, Ohio, area who were active non-medical users of illicit pharmaceutical opioids. However, these users were not dependent on pharmaceutical opioids or heroin. They had no history of heroin use or illicit drug injection. After a baseline interview, the study participants were interviewed every six months for three years to describe changes in drug use practices and identify predictors of transition to pharmaceutical opioid dependence and heroin initiation.
Over 36 months, 27 (7.5 percent) of the final 362 study participants initiated heroin use. The rate of heroin transition was 2.8 percent per year. Although almost half of the sample were African American, all those who initiated heroin use were white.
The researchers concluded that the following characteristics were associated with greater risk of transitioning to heroin use: having first used illicit pharmaceutical opioids at age 15 or younger, used pharmaceutical opioids to get high but not for self-medicating purposes, used pharmaceutical opioids by sniffing or snorting (as opposed to orally ingesting) or becoming dependent on pharmaceutical opioids.
"This is the first longitudinal study conducted using a community-based sample of young pharmaceutical opioid users in the United States to identify significant predictors of heroin initiation," Carlson said. "It largely supports hypotheses derived from previous cross-sectional and retrospective research among heroin users."
Carlson said that the findings from a community-based sample provide insights into key dimensions for the design and testing of urgently needed interventions.
"Our results suggest that preventing transition to non-oral pharmaceutical opioid use, preventing transition to opioid dependence by reducing or eliminating the frequency of pharmaceutical opioid use and educating users about the risks involved for those who are non-opioid dependent are important intervention targets," Carlson said. "Preventing illicit pharmaceutical opioid initiation at an early age is vital."
In addition to Carlson, members of the research team from the Boonshoft School of Medicine included Raminta Daniulaityte, Ph.D., associate professor of community health and CITAR associate director; and Ramzi W. Nahhas, Ph.D., associate professor of community health. Silvia S. Martins, M.D., Ph.D., associate professor of epidemiology at Columbia University Mailman School of Public Health, also is a member of the research team.