She researched 500 years of English gardening history to produce a historical fantasy novel. She has written about time travel and werewolves in Colonial Virginia. And she is currently working on a novel about women and children during an apocalypse.
Along the way, Wright State University alumna Tiffani Angus worked at the Dayton Daily News as a copy editor and even traveled the United States training TSA agents.
Today, she shares her creative writing expertise and life experiences with students at Anglia Ruskin University in Cambridge, England, where she is a senior lecturer and course leader.
Angus recently wrote a guest column in the Dayton Daily News on the Manchester Arena bombing, which left 23 people dead, many of them children. "It was an honor to have an outlet to voice my point of view on a particularly tragic and rage-inducing aspect of the event," she said.
Angus knew she wanted to be a writer when she was very young.
"I was the kid who wanted to be left alone to read rather than go out and play," she said. "But I didn't write until I was an adult; somehow I got the idea in my head that I wasn't 'ready' yet."
Angus grew up in Las Vegas, where her mother worked as a blackjack dealer and her seamstress grandmother made bridal gowns and showgirl costumes.
Angus started at a community college in Las Vegas before moving to Dayton, where she attended Sinclair College and then transferred to Wright State. She worked at the Writing Center, which helped her sharpen her nonfiction writing and grammar skills.
"Being responsible for helping other writers improve does wonders for your own writing," she said.
The literature classes she took taught Angus how to read like a writer and how to analyze "what the authors of the work were doing, why they made their choices, how their choices affected the work and how readers interpret texts — all skills that I use both as a writer and as a lecturer teaching new writers."
One of her favorite classes was The Black Death, a course about the plague that killed millions of people in the 1300s. For one assignment, Angus was allowed to write fiction, so she produced a short story about a traveling cloth merchant.
"I loved that at Wright State I was given the freedom to read and write about topics that other universities may have considered not worth my time," she said. "The teaching faculty gave me the freedom to explore and analyze the genre fiction that I loved to read."
Angus earned her bachelor's degree in English in 1998, worked for a year as a technical writer and then received her master's in English at Wright State in 2001.
After graduating, Angus held a series of jobs. She traveled around the country training new Transportation Security Administration agents because of her strong teaching skills, worked as a copy editor at the Dayton Daily News and then as an editor for Mazer, writing and editing textbooks and tests.
At the same time, she continued to produce fiction, co-writing a novel that taught her about story structure and improved her ability to write short stories.
In 2008, Angus attended Viable Paradise, a one-week workshop on Martha's Vineyard for science fiction and fantasy writers and staffed by some of the best writers in the business. She was then accepted into the Clarion Science Fiction and Fantasy Writers' Workshop. She published her first short story, "If Wishes Were Horses," in 2009 and then spent six weeks at Clarion in La Jolla, California.
Angus decided she wanted to pursue a Ph.D. and in 2010 enrolled at Anglia Ruskin. Coincidentally, in 2014 Wright State signed a memorandum of understanding with Anglia Ruskin to formalize commitment to internship opportunities, pave the way for research initiatives and open the door to more student exchanges.
At Anglia Ruskin, Angus researched 500 years of English gardening history and how gardens function in fantasy fiction. She wrote a historical fantasy novel set in one English manor-house garden over several hundred years, complete with time slips.
Angus has published in the fantasy genre well as science fiction (time travel) and horror (werewolves in Colonial Virginia). Lately, she has written about gardening history, with a twist.
"I like to mess with history, to take people and situations and bash them around a bit," she said.
"Fairchild's Folly," published in an anthology titled "Irregularity," is about Thomas Fairchild, believed to be the first person to cross-pollinate species. He crossed a Sweet William with a carnation in the early 1700s, but ended up with a sterile flower named Fairchild's Mule.
Angus' story is about Fairfield exchanging letters with Carl Linnaeus, the father of taxonomy. However, Fairfield died, leaving Linnaeus reading letters from a "ghost."
"I was really proud of that story because it is quiet, a collection of letters, telling almost a non-story because one man is dead," Angus said. "But beneath that, it is about the mystery of existence and the importance of having some questions that will never be answered."
Angus is currently working on a novel about women and children during an apocalypse.
"You know that saying that if women ran the world there'd be no war?" she said. "I call shenanigans on that, and this novel is a close look at how one Midwestern neighborhood copes."
After earning her doctorate in 2015, Angus was hired by Anglia Ruskin as a lecturer in publishing. For the past 18 months, she has been a full-time lecturer and last month was promoted to senior lecturer. And for the past nine months, she has been course leader in creative writing for master's students.
Here is Angus' advice to students who want to go into creative writing: "Get used to rejection. Read 'everything.' Then read it again and figure out how it's put together. Get used to people tearing apart your work. Grow a thick skin. Be open to even the most ridiculous ideas your brain will throw at you. Keep your day job."
Angus says the most important thing is perseverance.
"If you can write but you are too afraid to share your work, you're going to have a hard time of it," she said. "If you only write one draft and refuse to be open to the possibility that you'll have to trash the first page or five or 20, you're going to have a hard time of it."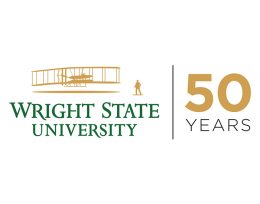 For students who want to write science fiction or fantasy, she looks for those who "have a fresh voice, who aren't writing 'Lord of the Rings' retreads, who aren't afraid to go really weird."
Wright State became an independent institution in 1967 and spent the next 50 years growing into an innovative leader in affordable and accessible education. In 2017, it celebrates its 50th anniversary and sets the course for the next half century.