Wright State University has always been a home for top area high school students and this year's incoming class is no different.
The number of undergraduate students at Wright State who were high school valedictorians and salutatorians has greatly increased over the last five years, from 301 students in 2013 to 538 valedictorians and salutatorians in 2017. This fall, 174 of those students are new arrivals to the campus, up from 170 last year and 159 in 2015.
This year the university changed the criteria for valedictorians and salutatorians, making the high school grade point average requirement a minimum of 3.75 for both valedictorians and salutatorians scholarships, said Mary Ellen Ashley, vice president for enrollment management.
"All of the new students met or exceeded the required GPA, making this the largest incoming class of val/sal students and the largest total group of these highly qualified students in any given year," Ashley said.
Valedictorians and salutatorians help raise the academic profile of the total student body and are retained at a very high level. Eighty-seven percent of high school valedictorians and salutatorians graduate in five years.
"Because they chose Wright State University we are able to proudly tell their stories throughout Raider Country, and we can share the praises of them with their high schools. This program is a win-win for all of us," Ashley said.
Lina Nahhas, valedictorian of Dominion Academy in Dayton, is one of those stories. She traveled the world before she began grade school, living in Thailand from age 4 to 8. She attended an international school, so she did not have to learn to speak Thai, but she was immersed in Thai culture.
Nahhas, an English major, lived in the city of Chiang Mai, where she experienced Thai festivals such as Loy Krathong, which is a water festival.
"If you go out during the festival, you will get soaked. There's water guns and water balloons everywhere," she said.
Nahhas said that Thai food is very good and very different from American food. "It's nice and cheap," she said. "There are noodle shops you can go to everywhere. It's fabulous."
Before Nahhas lived in Thailand, she spent a month in the Philippines. While she she doesn't remember much of it, since she was very young at the time, she remembers that they had to take baths in a river.
Once she moved back to the United States, she attended public school for a few years before being homeschooled and eventually attending Dominion Academy, a college preparation school, through high school.
Some of Nahhas' favorite classes were Shakespeare literature and Shakespeare theater. She performed in two plays in Shakespeare theater, "As You Like It" and "Julius Caesar." In "Julius Caesar," she played Cinna, a conspirator against Caesar. In "As You Like It," she played Jacques, whom she describes as an "emo, vegan musician."
"Jacques is an interesting character," She said. "He's one of the few who doesn't get married, and although he's technically a guy, I play him as a girl. He doesn't like that they eat the deer, because they're living in the forest and he's annoyed about that. He just walks around singing."
During her performance as Jacque, Nahhas played music on her guitar she wrote herself. She said she has always liked music and has played guitar since middle school.
"I don't really care what genre something is, I just like real music and when the lyrics are more important. I don't like fluffy lyrics," she said.
Nahhas said she considered majoring in music, but decided she could continue music as a hobby while she pursued a degree in English. She plans to participate in choir during the fall. Her ideal career is to work as an editor.
"I like organizing things and I like writing, and editing combines those," she said.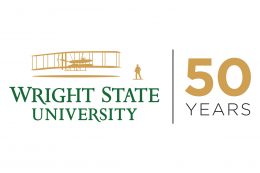 Wright State became an independent institution in 1967 and spent the next 50 years growing into an innovative leader in student success. In 2017, it celebrates its 50th anniversary as an independent public university, culminating with a special Homecoming celebration Sept. 29 through Oct. 1.