In 1970, Wright State was one of the first schools to create an Office of Disability Services. That was three years before Section 504 of the Rehabilitation Act required any university receiving federal money to make its programs accessible to persons with disabilities and 20 years before the Americans with Disabilities Act. Forty-seven years later, Wright State's culture and reputation for inclusivity of people with disabilities continue to grow.
Wright State's campus is one of the most accessible in the country. It has what is believed to be one of the most extensive collegiate pedestrian tunnel systems in the United States. Nearly two miles of tunnels (10,436 feet) snake their way beneath the Dayton campus, linking most of the buildings in its academic sector. We also have a one-of-a kind service dog park and a popular service dog training student organization.
Disability Services doesn't just serve students with physical disabilities. The office offers programs and resources for more than 800 students with ADD/ADHD, learning, medical, physical, and/or psychological disabilities.
Wright State is now setting an example for other colleges in assisting students on the autism spectrum. Raiders on the Autism Spectrum Excelling, or RASE, provides students with individualized coaching sessions throughout their first year of college. Participants build key competencies in the areas of social skill development, organization, study strategies, self-advocacy, and resiliency. The innovative approach is gaining national attention and prompting other universities to develop similar programs.
Veteran and Military Center
Although Wright State enrolled veterans and helped process GI Bill benefits even in its early days, the number of students using those benefits increased 300 percent in 2010 following the establishment of the Post-9/11 GI Bill. A committee was formed to address how the university would meet the needs of the large influx of military-connected students.
In the fall of 2012, students Anthony Hinojosa ('14) and Anthony Heiland ('14) began collecting signatures on a petition asking for a central spot for veterans to connect, study, and deal with issues related to their benefits. They eventually amassed more than 3,000 signatures and presented them to the administration.
"When I got to Wright State in 2011, the VA education office was the size of a closet and the VMC was an idea sitting off to the side with no one doing anything about it," Heiland said. "I was young and full of testosterone. Plus I was a combat engineer in the Army National Guard. Blowing things up is what I do."
Heiland, with the help of Wright State employees Valita Wilhoite, AmandaWatkins, and Jared Shank, started the Veterans League, a student organization. Hinojosa came on board the next year as a veteran's affairs liaison for student government. They were soon collecting signatures, setting up tables in the dining areas and at other events, chasing down students in the hallways, and formulating proposals for an area of the campus dedicated to veterans.
"Would it have been built at some point in time? I don't know the answer to that," said Heiland, who completed two tours of duty in Iraq before enrolling at Wright State. "Did it get done faster? Absolutely."
The Veteran and Military Center (VMC) was established in August 2013 and moved into its current space at the intersection of Allyn and Millett Halls in November 2014. The 4,500-square-foot space includes a lounge, kitchenette, a study room, a computer room, and personnel trained to handle benefit issues for more than 800 military-connected Wright State students.
Thanks in part to the VMC, Wright State has been named "military friendly" for nine consecutive years by G.I. Jobs and Military Advanced Education.
STEM School
Wright State was a driving force behind the creation of the Dayton Regional STEM School (DRSS). The school opened in 2009, and in June 2013 graduated its first class—52 talented seniors bound for the likes of Wright State, Emory, Purdue, Texas A&M, Ohio State, and other schools.
DRSS is designed to offer students a relevant, real-world education that prepares them for college and the working world. The students participate in inquiry- and project-based instruction that marries traditional STEM content with social studies, language arts, fine arts, and wellness and fitness.
Walk through the school on any given day and you may see walls dressed with students' watercolor paintings of cells—an effort to fuse a lesson in art with biology. Students may take an Introduction to Engineering and Design class, learn Mandarin Chinese, or build coffee tables out of cardboard based on a design by renowned architect Frank Lloyd Wright.
Over the years, the school has had a statewide impact. A school history project resulted in the installation of several official Ohio historical markers with student-written biographies of historic figures. And concerned about the needs of people with disabilities, a passionate group of students became a moving force behind state legislation to require public family restrooms with adult changing stations.
Wright State continues to play a large role in the STEM school's success. DRSS employees are also employees of Wright State, and university faculty frequently participate in student projects, guest speaking, and curriculum development.
Civil Rights Pilgrimage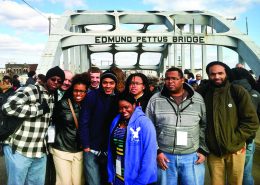 The Bolinga Black Cultural Resources Center has organized a Civil Rights Pilgrimage each of the last four years. This spring break trip allows students to explore the history of civil rights through visiting landmarks in locations such as Selma, Memphis, Charleston, Montgomery, Atlanta, and Washington, D.C. Students can take a political science course during Spring Semester that compliments the tour. The 2018 pilgrimage is scheduled to include stops at the National Civil Rights Museum, the Alex Haley Museum, and Central High School in Little Rock, Arkansas.
Community Engagement
In 2015, the Carnegie Foundation for the Advancement of Teaching selected Wright State to receive its Community Engagement Classification. Just 361 colleges and universities have received the classification nationwide. Wright State also has been named to the President's Higher Education Community Service Honor Roll for six consecutive years.
One example of our community engagements is the student-run fundraiser Raiderthon. This annual 15-hour dance marathon has raised nearly $200,000 for Dayton Children's Hospital in just four years.
Wright State University Foundation
Before there was a Wright State University, there was a Wright State University Foundation. Incorporated on December 15, 1966, the foundation membership roster read like a who's who of Dayton business and industry leaders.
Thanks to the support of individuals, corporations, and foundations from throughout our region, state, and nation, the Wright State University Foundation has distributed more than $51 million in scholarships and established 811 scholarship funds over the last 51 years.
The largest gift in the university's history came in June 2005 when Oscar Boonshoft and his family donated $28.5 million to the Wright State University School of Medicine. To honor the family's generosity, the school was renamed the Wright State University Boonshoft School of Medicine.
Wright State employees are committed to supporting our students through giving as well. Through the annual Campus Scholarship and Innovation Campaign, faculty, staff, and retirees have donated more than $9.5 million to Wright State scholarships and programs since 1978.
Alumni Association
In 1990, Wright State's Alumni Association established the Legacy Scholarship Fund to support children of alumni studying at Wright State, and more broadly, to help the university grow and maintain the university's relationship with its graduates. Since it began, the scholarship has supported 770 students with awards totaling more than $740,000.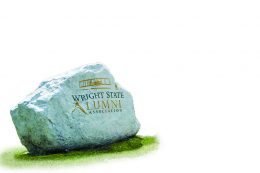 In 1995, Wright State University's first alumni network was created in Washington, D.C. Today, there are 21 networks and societies, seven of which support scholarships specific to their network or society. In 2016, they collectively held 69 events and had over 1,500 members in attendance.
The networks are based not just in places like Cincinnati, Cleveland, and Columbus, but also in New York City, Los Angeles, and Tampa.
Identity and college-based societies have also flourished. The African American, Amigos Latinos, LGBTQ and Ally, and Nonprofit Leadership Alliance Alumni Societies drive meaningful engagement with Wright State. Societies linked to the College of Nursing and Health, Lake Campus, and Social Work and Motion Pictures programs are keeping connections strong through academic programs.
The Ellis Institute
The Duke E. Ellis Human  Development Institute opened in the fall of 1989. This community-based training facility on Dayton's near-west side houses Wright State's doctoral program for mental health professionals and is also a fully functional clinic for underserved residents.
The Ellis Institute provides psychotherapy and psychological assessments to individuals in the Greater Dayton region and beyond. Services are provided by doctoral students under the supervision of School of Professional Psychology faculty. The institute is committed to remaining accessible to individuals and families of all income levels.