A Wright State University Boonshoft School of Medicine graduate was honored with a Wright State University Alumni Association Achievement Award at an annual awards ceremony on Friday, Sept. 29, during Wright State's Homecoming Weekend.
Theadore Hufford, M.D., was named the recipient of the Graduate of the Last Decade Award. Hufford graduated from Wright State in 2008 with a bachelor's degree in biological sciences and in 2012 with an M.D. degree.
The Graduate of the Last Decade Award recognizes the accomplishments of Wright State undergraduate alumni who have graduated within the past 10 years. These alumni have quickly excelled in the various aspects of life by demonstrating outstanding accomplishments in their professional careers, impressive volunteer service and noteworthy involvement in professional and service organizations.
Hufford was the Student Government president during his undergraduate years at Wright State. He also was the president of his class at the Boonshoft School of Medicine during all four years of medical school. During medical school, he was a student trustee on the Wright State University Board of Trustees and was chair of the medical school's Conduct Review Panel. He was a member of the Gold Humanism Honor Society and was inducted into the Omicron Delta Kappa Leadership Honorary. He also received multiple scholarships.
After graduating from medical school, Hufford completed a residency in surgery at University of Illinois at Chicago/Metro Group Hospitals. After residency, he entered a one-year fellowship (2017-2018) in laparoendoscopic and bariatric surgery at the Cleveland Clinic Foundation. After he completes his fellowship training, he would like to begin practicing in an urban area to help make a difference in the lives of patients.
Hufford has published 10 peer-reviewed journal articles and presented at 22 local, regional and national meetings in general and bariatric surgery. He was selected as a top five candidate nationally for the Jameson L. Chassin Award for Professionalism in General Surgery in 2016. He received the MVP Award from Compassionate Medicine from Advocate Health Care three times and the MVP Award for Partnership in Medicine in 2016. He was chosen as Physician of the Month at Advocate Health Care three times.
Hufford has always wanted to be a doctor. "For me, I have always felt like my overall approach to patient care helps to calm those I treat," said Hufford, who is from Piqua. "I sometimes questioned my ability to make it through medical school, but I always remember telling myself that the opportunities I have been given are greater than any one person, and we should all treat our patients as such."
His experiences at Wright State, both during his undergraduate years and medical school, taught him to be a role model to those around him. His professional life outside of Wright State found him leading teams in other capacities.
"These experiences do more for any future career, no matter what your passion is," he said. "They showed me how the power of compassionate care can sometimes truly heal people, even more so than a scalpel."
He chose the Boonshoft School of Medicine because of the amazing experience he had at Wright State as an undergraduate student.
"After having been a part of such an amazing university, I knew that the medical school would be no different," he said. "I have always looked for mentors in everything I do, and in the case of the Boonshoft School of Medicine, I did not have to look far."
Hufford became interested in surgery after spending one day in the operating room. "I was hooked!" he said. "My favorite thing about surgery is that we provide our patients with a plethora of information, which is probably overwhelming. However, our patients put enough faith and trust in us every day to perform amazing and heroic procedures. It is truly the most humbling part of my job."
He was surprised to be chosen for the Alumni Association Achievement Award.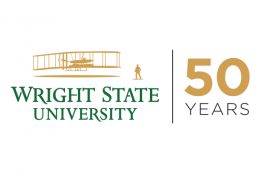 "I was humbled to be chosen, especially for doing my job every day," Hufford said. "It is important to remember that no matter where we came from or what we are currently doing to meet our goals and aspirations, you still hold the keys to your own destiny."
Wright State became an independent institution in 1967 and spent the next 50 years growing into an innovative leader in student success. In 2017, it celebrates its 50th anniversary as an independent public university.