Interactive art exhibits inspired by feminist writer Gloria Anzaldúa and created by Wright State University English department graduate students will be unveiled in a community setting to heighten awareness about borders and gentrification.
The community art show on April 6 is part of First Friday, which features art and entertainment in downtown Dayton. The show, which runs from 5 to 9 p.m., is hosted by the El Rincón Art Studio in the Front Street Building, 1001 E. 2nd St. It is free and open to the public.
The show will feature an Anzaldúa-inspired painting, a sculpture, a map of the economic and social "border" between East Dayton and Oakwood, readings, and a vibrant, interactive exhibit of photos and transparent masks that can be moved around by members of the community to express their ideas.
The show is part of a project in a class on Anzaldúa taught by Kelli Zaytoun, professor of English language and literatures and an Anzaldúa scholar.
Anzaldúa, who died in 2004, was an acclaimed fiction writer, poet, activist and cultural theorist. She is considered a founder of the Chicana feminist movement and is perhaps best known for her book "Borderlands/La Frontera," a semi-autobiographical work that includes prose and poems that interrogate the borders between ethnic groups, languages, world views, genders and sexualities.
"She is known for her work in border theory, looking at the relationship between physical borders and identity," said Zaytoun. "She wasn't just interested in physical location, but psychological borders, sexual borders, spiritual borders."
The art exhibit is titled "Coyolxauhqui," a name used by Anzaldúa in reference to a leader of the southern star gods in Aztec mythology who was dismembered during an attack. The title is meant to present the idea of creation by reassembly through the strength of people's individual identities.
The art show is being spearheaded by Dylan Colvin, a master's student in humanities and English rhetoric from Dayton, and artist Andy A. Espino, owner of the El Rincón Art Studio.
"He likes art, and I like activism," said Colvin. "We're using the Coyolxauhqui concept to have people create this idea of what community looks like to each of us. We need to let voices from all over Dayton blossom."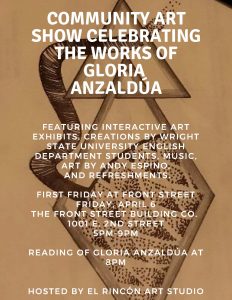 Christina Puntasecca Luiggi, a master's student in English literature from Las Cruces, New Mexico, is adding to the artwork photos she took during a visit to Pilsen, a historically Mexican-American neighborhood on the west side of Chicago that is struggling with gentrification. Mostly white homeowners and white-owned businesses have been displacing Mexicans and Mexican-owned businesses there.
"I saw these murals that spoke to immigration policy and resistance in these really powerful ways that you just couldn't deny," said Luiggi. "There were activist posters posted to every surface that said things like, 'Who Did You Displace Today?' and describing what your business transactions in the neighborhood are actually doing."
The artwork will include an array of transparent masks from Luiggi that will overlap and be designed to express the complexities of gentrification.
"I like to think Anzaldúa would like the idea of this project in the community," Luiggi said. "And especially right now when we're having a lot of conversations about borders and immigration and Dayton being a sanctuary city. It's really important to put a human face to the issue through artistic mediums."
Luiggi said Zaytoun's class has enabled her to connect ideas that don't necessarily fit into conventional frameworks.
"Gloria Anzaldúa's writing is personal to me so there has been a lot of opportunity for personal growth," Luiggi said. "But it has also enabled me to have difficult conversations with people who come from really different spaces."
Colvin said the class has helped her better understand other people's points of view by understanding that each person can be "many things."
"You don't have to pick an identity with which to live your life by," Colvin said. "We have a fluidity with which to understand experiences."
Zaytoun said Anzaldúa's work has a special resonance in today's environment.
"Anzaldúa is important right now because I think we're having a problem as a country with trying to understand what it means to be an American, what it means to be America," said Zaytoun. "When do you put up a border and when do you tear it down and how do you do something in between?"