After four or more years of intense study and specialized training, 96 medical students in the Wright State University Boonshoft School of Medicine class of 2018 received their M.D. degrees during the school's graduation ceremony on Thursday, May 10, at the Schuster Center in downtown Dayton.
In addition to the conferring of degrees, the event included a "hooding ceremony" in which graduates received traditional regalia denoting their status and profession. They also took a professional oath to mark the start of their medical careers and signed a registry to commemorate their first use of the initials M.D. following their names.
In July, the graduates will begin prestigious residencies and receive advanced training in the medical specialties of their choice. The new physicians will enter outstanding residency training programs in Dayton, throughout Ohio and nationwide, including the Boonshoft School of Medicine, Case Western/University Hospitals Cleveland Medical Center, Loma Linda University, University of Chicago Medical Center, Vanderbilt University Medical Center and Yale University – New Haven Hospitals. (See medicine.wright.edu/match).
More than 35 percent of the Wright State graduates will remain in Ohio during residency, and 15 percent will remain in Dayton. More than a third (42.8 percent) will enter a primary care field (family medicine, internal medicine or pediatrics).
Gregory Toussaint, M.D., assistant dean for clinical skills education and associate professor of pediatrics at the Boonshoft School of Medicine, delivered the commencement address. A general pediatrician, he graduated from the U.S. Air Force Academy in 1976 and received his medical degree from Virginia Commonwealth University in 1980. He completed a pediatric residency at Wilford Hall U.S. Air Force Medical Center in San Antonio and later a fellowship in general academic pediatrics at Boston Children's Hospital in Boston. He served 34 years on active duty.
Assigned as a pediatrician and medical staff chief at Air Force facilities in the United States and overseas, Toussaint served three tours as commander of forward-deployed, combat support field hospitals for operations in Iraq and Afghanistan.
Toussaint joined the Wright State University Boonshoft School of Medicine faculty in 2005. He is involved with teaching in all four years of the medical school curriculum, from interviewing and physical examination courses to the pediatric clerkship and a fourth-year academic medicine elective.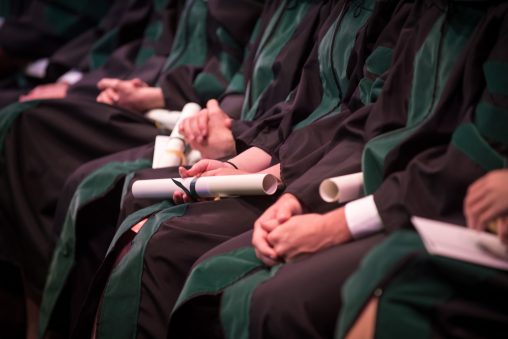 Each year the graduating class presents an Appreciation Award to recognize an individual or organization that has made a significant contribution to the Boonshoft School of Medicine. The class of 2018 honored Gideon Adegbile, M.D. When the first dean of the medical school reached out to physicians in the Dayton community in 1975 asking them to serve as volunteer faculty, Adegbile didn't hesitate to accept the call to serve as a preceptor.
Since then, he has been teaching and mentoring medical students. He is the longest-serving active volunteer faculty member, serving as a clinical professor in the Department of Family Medicine at the Boonshoft School of Medicine. Adegbile has made an impact on more than 70 Wright State medical students going back to the school's charter class, as they shadowed him throughout his career during six-week clerkships.
Margaret M. Dunn, M.D., dean of the medical school, presented the Dean's Award to graduating medical student Ayotunde Oluwakorede Ositelu, for demonstrating a commitment to academic excellence, embodying empathy and compassion toward others, exemplifying personal integrity and professionalism and earning the respect and trust of classmates and faculty.
The medical school presented several other awards:
The Teaching Excellence Award was presented to John Donnelly, M.D., professor, family medicine, and associate professor, population and public health, who was selected by the class of 2018 as the faculty member displaying outstanding professional skill and pride in discharging his instructional duties.
The Leonard Tow Humanism in Medicine Award was presented by The Arnold P. Gold Foundation, to graduate Ayotunde Oluwakorede Ositelu and to faculty member Ryan Mast, D.O., assistant professor and child and adolescent fellowship training director in the Department of Psychiatry, for consistently demonstrating compassion and empathy in the delivery of care to patients.
The American Medical Women's Association Janet M. Glasgow Memorial Achievement Citations were given to Melissa Burtoft, Kamari Jackson, Marisa Smith and Kaitlyn Steffensmeier, who are graduating in the top 10 percent of the class. 
The Glenn C. Hamilton, M.D., Excellence in Emergency Medicine Award was given to Jordan Bjerke, recognizing interest and accomplishment in emergency medicine.
The Society for Academic Emergency Medicine Award was given to William Trautman, the graduate who has demonstrated outstanding proficiency in emergency medicine.
The Excellence in Geriatric Medicine Award, sponsored by the Ohio Department of Aging, was given to Evan Merle, for excellence in the study of geriatrics.
The Department of Internal Medicine Outstanding Senior Student Award was presented to John Giltner.
The Homer Cassel, M.D., Award, was presented by the Dayton Society of Internal Medicine in honor of the late Dr. Homer D. Cassel, to We¢am Hussain for outstanding scholarship and commitment to the specialty of internal medicine.
The Department of Pediatrics Award was given to Lauryn Zielinski, who is committed to a career in pediatrics and has shown outstanding performance in pediatrics during the clinical years.
The Department of Psychiatry Outstanding Senior Student Award was presented to Larrilyn Yelton.
The Nicholas J. Thompson Award was given to Clarice Montecalvo, who is committed to a career in obstetrics and gynecology and has shown outstanding performance in obstetrics and gynecology during the clinical years.
The Dan W. Elliott, M.D., Award was presented to Chamilka Gunasekera, who is committed to a career in surgery and has shown outstanding performance in surgery during the clinical years.
The Walbroehl Award for Family Medicine was given to Alexander Cook for excellence in family medicine.
The Reach Out of Montgomery County Student Volunteer Appreciation Award was presented to Michael Zhou.
The Global Service Award was given to Jonathan Stofer, who has a history of volunteering and rotating in a medically underserved area internationally.
The Merck Manual Awards (Merck Company) were presented to Jordan Bjerke and Justin Kelley, who exemplify scholastic achievement in medical studies.
The 2018 Excellence in Public Health Award was given to Alexandra Lawson.
The John Worthman, M.D., Award was presented to Clarice Montecalvo for entering into the Wright State University Family Medicine Residency.
The Wright State University Boonshoft School of Medicine is a community-based medical school affiliated with eight major teaching hospitals. The medical school educates the next generation of physicians by providing medical education for more than 459 medical students and 458 residents and fellows in 13 specialty areas and 10 subspecialties. Its research enterprise encompasses centers in the basic sciences, epidemiology, public health and community outreach programs. More than 1,500 of the medical school's 3,328 alumni remain in medical practice in Ohio.