Excerpt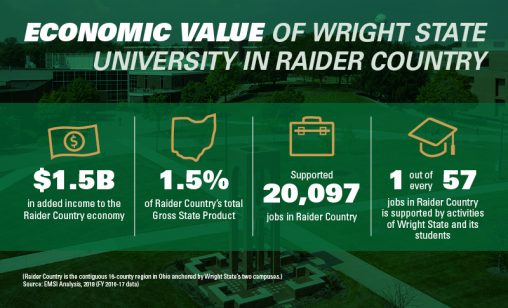 Wright State University adds $1.5 billion annually to the region's economy and supports more than 20,000 jobs, according to a new economic impact study.
The study, which analyzed data from fiscal years 2016-2017, based its findings on the university's operations and research spending, as well as spending by students, visitors and alumni. It was funded by the Inter-University Council of Ohio and conducted by Economic Modeling Specialists International, or Emsi, a provider of economic impact studies and labor market data to educational institutions, workforce planners and regional developers around the world.
The Emsi report complied data from all 14 of Ohio's four-year public universities, and concluded that these schools, including their students and statewide alumni, added $42 billion in income to Ohio's economy in 2016-17. That represents 6.7 percent of Ohio's total gross state product. The universities also supported nearly 560,000 jobs, which means that one of every 12 jobs in Ohio is supported by the activities of public universities and their students.
To determine its own economic impact, Wright State paid $11,000 to commission a regional study also conducted by Emsi. The report concludes that Wright State benefits local businesses by increasing consumer spending in the region and supplying a steady flow of qualified, trained workers into the workforce.
"It enriches the lives of students by raising their lifetime earnings and helping them achieve their individual potential," the study said. "It benefits state and local taxpayers through increased tax receipts across the state and a reduced demand for government-supported social services. Finally, it benefits society as a whole in Ohio by creating a more prosperous economy and generating a variety of savings through the improved lifestyles of students."
The $1.5 billion in added income from Wright State equals about 1.5 percent of the gross regional product, or nearly twice as large as the region's entire utilities industry. And it supports one out of every 57 jobs in the 16 counties that include and surround Wright State.
"Seeing that Wright State serves as a $1.5 billion economic engine really comes as no surprise," said Wright State President Cheryl Schrader. "This study reinforces the fact that Wright State is a critical part of the economic health – the lifeblood – of the region and the state."
Research and operations
In FY 2016-17, the university employed 3,337 full-time and part-time faculty and staff for its day-to-day operations. Of these, 93 percent lived in the 16-county area. Payroll for those employees was $254.1 million, much of which was spent in the region for groceries, rent, dining out, clothing and other household expenses. In addition, the university spent $99.4 million to cover its day-to-day expenses for facilities, professional services and supplies.
Wright State added $331.7 million in income to the region as a result of its day-to-day operations from payroll, the multiplier effects generated by the spending of the university and its employees, and a downward adjustment to account for funding the university received from state and local sources.
The university spent $21.3 million on payroll to support research activities, creating a net total of $49.5 million in added income for the regional economy equivalent of supporting 716 jobs.
Visitor and alumni spending
Thousands of visitors from outside the area came to Wright State to attend commencement, sporting events and other activities sponsored by the university. They spent money for lodging, food, transportation and other personal expenses. Their off-campus expenditures generated a net impact of $1.7 million in added income for the regional economy and was the equivalent of supporting 52 jobs.
The education and training Wright State provides for regional residents has the greatest economic impact, with thousands of former students employed in the 16-county area.
Past and present students generated $1.1 billion in added income for the region, which is the equivalent of supporting 13,735 jobs. The added income includes the higher earnings that students and alumni earned during the year, the increased output of the businesses that employed them and the multiplier effects that occurred as students and their employers spent money at other businesses.
Tax revenue
According to the study, Wright State generates more in tax revenue than it takes in, primarily from taxes that the state and local government collect from the added revenue created in the state.
As Wright State students earn more, they make higher tax payments. And employers make higher tax payments as they increase their output and purchase more supplies and services. By the end of the 2016-17 students' working careers, the state and local government will have collected a present value of $439 million in added taxes.
Total benefits to taxpayers equal $489.9 million. That compares to taxpayer costs of $108 million – equal to the funding that Wright State received from the state and local government during 2016-17. This means that for every $1 of public money invested in Wright State, taxpayers receive a cumulative value of $4.50 over the course of the students' working lives.
Data and assumptions used in the study were based on academic and financial reports from Wright State, industry and employment data from the U.S. Bureau of Labor Statistics and U.S. Census Bureau, outputs of Emsi's Multi-Regional Social Accounting Matrix model, and a variety of studies and surveys relating education to social behavior.
View the original post at bizjournals.com