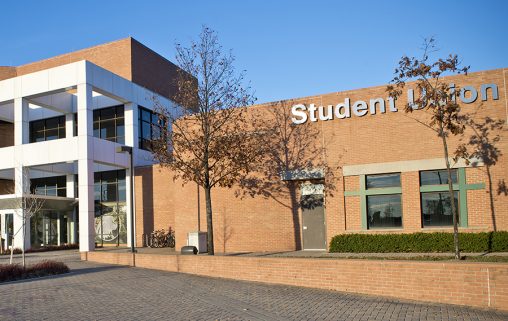 Wright State University students concerned about the impact of the strike by members of the faculty union on their classes took advantage of a special advising session at the Student Union.
Several hundred students met individually with either deans, department chairs and advisors as well as admissions, enrollment and financial aid officials in the Student Union Atrium over the two-day session, Feb. 7 and 8. More than 3,500 students have classes that have been affected.
Raider Connect, the one-stop enrollment office, will continue to be available for affected students moving forward. Students should contact 937-775-4000 or RaiderConnect@wright.edu or visit 130 Student Union.
Affected students had classes that were canceled or lacked instructors. So the university created the heavily staffed, centralized one-stop advising shop to maximize support. An estimated 50 to 60 Wright State staffers greeted students and manned the advising tables.
"I just wanted to make sure all of my classes are up and going," said Ben Ripple, a cybersecurity and IT major from Beavercreek. "It looks like so far all of them are not canceled."
The students received printouts of their class schedules with the affected classes highlighted and then were helped to work out solutions. For example, they were given the option of switching classes or taking the class in the upcoming compressed B term of the spring semester or during the summer semester.
Chris Rave, an electrical engineering major from Waynesville, came to see if his classes would be refunded if he did not drop them by the deadline.
"I know a lot of courses are being shifted around, so I didn't want to drop one if it would eventually be picked back up," he said. "They told me there is another course they are putting out in the B term, so I'll just be taking that course instead. As long as I graduate, I don't really care how it happens."
Nearly 700 students came to the session on Feb. 7, which ran from 3 to 9 p.m. Paul Carney, who oversees Wright State's Division of Student Success, said 238 seniors came to the session that day.
"Our students were given a lot of solutions to consider," said Carney. "Generally, there were smiling faces."
While many students appeared to be satisfied with the outcome, others were less so. Some social media messages reflected complaints about long lines on the first day.
Rave, who came to the session on the morning of the second day, said the process was much quicker than he thought it would be.
"It was pretty smooth," added Ripple. "I feel like for others it might not be so smooth."