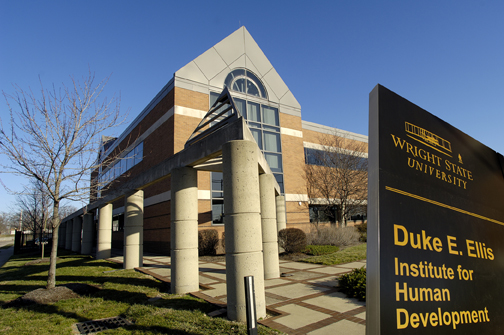 The Wright State University School of Professional Psychology, which provides behavioral health services for the community's underserved populations, conducts groundbreaking research and is a presence on the national landscape, is celebrating its 40th anniversary.
To mark the occasion, the school will hold an open house from 5 to 7 p.m. on Wednesday, April 10, at the Ellis Human Development Institute, which houses the school's community-based training facility. The west Dayton institute is marking its 30th anniversary.
SOPP was among the nation's first doctoral programs to develop a practitioner model program and to confer the Doctor of Psychology (Psy.D.) degree. The school offers generalist education and training at the doctoral level to best prepare psychologists to meet the current and future challenges posed by changes in health care delivery. Students also have the opportunity for focused study in multiple emphasis areas.
With the most diverse faculty and student body of any doctoral psychology program in the region, the school embraces its mission of serving the underserved and promoting culturally competent care and scholarship. It is committed to diversity, social justice, preparing students to apply research and practice in a broad array of settings and emphasizing lifelong learning and the welfare of others.
The institute is a nationally accredited facility and has several award-winning programs. It has a staff of licensed psychologists who are faculty and administrators, support staff, postdoctoral fellows, clinical psychology interns, practicum students and graduate assistants.
LaPearl Logan Winfrey, dean of the School of Professional Psychology, has extensive experience in doctoral psychology. Her work focuses on training and education in health service psychology, with specific attention to the integration of science and practice in developing cultural inclusion in psychology education and service delivery, multicultural issues in higher education and integrative approaches to psychological intervention.
Mary Jane Kocian-Figueroa, executive director of the Ellis Institute, manages day-to-day operations and brings a clinical and administrative background. A graduate of the Illinois School of Professional Psychology, she completed her post-doctoral fellowship at SOPP.
The school has become a major presence in the community. It has hosted community health fairs that include free screenings for blood pressure, blood sugar, HIV and Hepatitis C, mammograms and mental health screenings for anxiety, depression and posttraumatic stress disorder.
In recent years, the school's faculty members have appeared on national television because of expertise in forensic psychology, co-authored a book exploring the motivation for suicide and those who leave notes, worked on developing an early detection system for problems in military marriages, been lead coordinators for the national Association of Women in Psychology conference and won a prestigious national award for advancing disability issues in psychology and beyond.
Its students have raised awareness about postpartum depression among African-American women, presented research on family caregivers of stroke survivors at an American Psychological Association conference, conducted extensive research into the sex trafficking industry and therapies for its victims, and co-founded Dayton Indivisible for All, which fights intolerance, racism and authoritarianism.
They have served in leadership positions in The Association of Black Psychologists' Student Circle, the Autism Society of Dayton and Students in Pediatric Neuropsychology, a national organization overseen by the American Academy of Pediatric Neuropsychology.