He survived five Nazi concentration and death camps, lost all of his immediate family to the gas chambers and came face to face with Josef Mengele, the German physician known as the Angel of Death for his cruel experiments on prisoners.
Despite his harrowing history and near-death experiences, the 95-year-old Samuel Heider had never written a book – until now. It happened with the help of Stevie Kremer, a former Wright State University student, adjunct instructor and alumna.
The seeds of the book "Miracle of Miracles" were planted in 2017 when Heider spoke at Wright State and Kremer overheard him say he had always wanted to write a book.
That led to Kremer volunteering her services — conducting numerous interviews with Heider and two years of research as she put his life story on paper.
"I found him to be such a charming and interesting man, and he seemed to like me," said Kremer. "I told him of my writing and editing experience and assured him that I could tell his story from his point of view and without embellishments."
Twice a month, Kremer would drive from her home in Centerville to Heider's home in northwest Dayton to have breakfast at Frisch's or Bob Evans and talk for a couple of hours. Kremer went online to access Heider's lectures and contacted librarians at the United States Holocaust Memorial Museum in Washington, D.C., and the USC Shoah Foundation on the West Coast.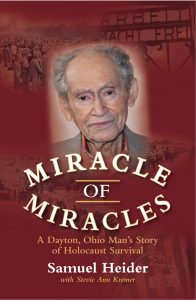 Slowly Heider's story began to take shape in book form.
Heider was born Szmul Josef Hajder on April 5, 1924, in the Polish village of Biejkow, the third of six children. In October 1941, the family was forced to leave their fruit farm by the occupying Germans and move into a ghetto in the Polish town of Bialobrzegi.
Heider was separated from his family at age 17 and sent to the Radom Ghetto in central Poland. He later learned that all of the members of his immediate family were killed at the Treblinka concentration camp.
In the summer of 1944, with the Russian army advancing in Poland, Heider was moved to the Auschwitz concentration camp in southern Poland, where he faced Mengele, who with a flick of his wrist indicated who would live and who would die.
Heider was later moved to the Vaihingen, Hessental and Dachau concentration camps in Germany. On April 30, 1945, he was liberated by American soldiers, who found him weighing only 74 pounds and battling typhus.
"His physical strength and religion probably were the things that pulled him through," said Kremer. "He would talk about his close calls with death. He would talk about being grateful to all of the people who saved him. That's where the title came from — 'Miracle of Miracles.'"
After living several years in a displaced-persons camp, in 1949 Heider immigrated to the United States. He came to Dayton, where over the years he got jobs making sausage and working at a clothing company as well as founding a scrap metal business.
Kremer has a long history with Wright State. When she began studies in the fall of 1968, there were only four buildings on campus.
She worked as a tutor in biology, English and German, making $2.64 an hour. She also bound books in the tunnels and worked 12-hour shifts taking student and faculty ID photos. She earned enough money to study one summer at University College in Dublin, Ireland, where she earned a certificate in Irish culture.
Kremer helped write the proposal to establish the summer Wright Start Program for high school students and taught English in the program for three summers.
Not fond of math, she changed her major from pre-med to English with a minor in German. She earned her bachelor's degree in 1972 with grades good enough to qualify for membership in Phi Eta Tau, the Wright State honor society.
Kremer pursued her master's degree in English at Indiana University, where she was elected president of international students in graduate housing.
"I found myself hosting journalists from behind the Iron Curtain, newspeople brought to the U.S. by the Department of State to help dispel propaganda," she recalled. "I helped organize various language tables in the dorm cafeteria so students could practice their foreign languages with native speakers, foreign movie nights and international dinners."
After graduation, she returned home to Centerville and taught transformational grammar at Sinclair Community College and freshman composition at Wright State for a year.
She then landed a job as a reporter and photographer at the Beavercreek Daily News. She became the drama critic, reviewing performances by such well-known actors as Henry Winkler, Ricardo Montalban, Eva Gabor and Jerry Lewis.
In 1976, she married and moved to Fort Nelson, British Columbia, a remote fur-trading, logging and oil-drilling community near the Yukon border. There, she was hired as head instructor of the Fort Nelson branch of Northern Lights College. She taught basic job readiness training and GED courses to the native Canadian Slavey Indians as well as English as a second language to many Vietnamese "Boat People" and immigrants from Macau, Hong Kong, Portugal and India.
Not simply a mild-mannered teacher, Kremer found herself one night in her husband's North Star Cabaret breaking up a fight between a bouncer and a Hell's Angels biker.
"I wasn't in any mood to deal with such nonsense," said 5-foot-4 Kremer.
In 1982, Kremer, her husband and their young daughter returned to Centerville. Kremer got a job as a senior technical writer and editor at the University of Dayton Research Institute.
In 2000, Kremer took a job as a substitute teacher at Centerville High School while teaching evening classes in technical writing and business writing at Wright State.
Eventually, she decided to change careers, began studying science and math at Sinclair and was accepted into the Wright State School of Nursing. However, she later had to leave school to care for her parents, who were in failing health.
Then in 2017 came the opportunity to tell Heider's story.
Kremer designed "Miracle of Miracles" to be used as a teaching tool to educate students about the Holocaust. She included photos, a map and a glossary of Jewish terms so readers of all faiths will understand what they mean.
"I remember everything from the concentration camps clearly, including the piles of dead bodies, the cruel treatment inflicted on me and others, and the sadistic smiling face of Josef Mengele. I believe in my heart that it is my purpose in life to tell to as many people who will listen about what Jews endured during WW II. We cannot forget, lest history repeats itself." — Samuel Heider, "Miracle of Miracles"
To purchase "Miracle of Miracles," contact Kremer at sakremer.writer@gmail.com.
(Samuel Heider passed away on Nov. 21, 2019)