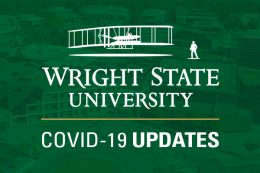 State public health officials anticipate that restrictions on face-to-face activities will extend into the summer months due to the continuing COVID-19 pandemic. Therefore, nearly all summer semester courses offered by Wright State University will be provided by remote delivery only.
Exceptions will include clinicals, practicals, internships, and other types of field experiences. In each of these cases, students should contact the director or chair of the program to learn more details about their current status and to receive additional instructions. Students in the School of Professional Psychology and the Boonshoft School of Medicine also are exempt from this announcement.
Summer A term and C term (full semester) begin May 11. Summer B term begins June 22. Registration for summer courses is ongoing through WINGS Express. Courses in all three terms will be delivered remotely, with the exceptions noted above.
Please be advised that the situation remains fluid and that changes to the summer schedule may occur over the next several weeks. If a course offering for which you are registered changes, you will be informed of the change by the department.
Students with questions about summer courses should contact their academic advisor, the department chair, or the faculty member teaching the course. You can find your academic advisor's name by going to wright.edu/advising and following the instructions in the "Find Your Primary Advisor" section.
Wright State University remains committed to providing students with a robust choice of courses during the summer semester. Student Success Services has put together a list of tips to help you get the most from your online courses, and we encourage students to frequent our COVID-19 Academic Service Updates webpage for information on remote options available for academic support.
"I want to thank all of you for your patience, flexibility, and hard work during this extraordinary time," said interim Provost Douglas W. Leaman.