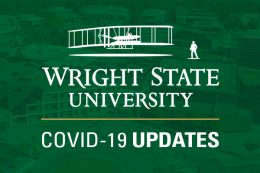 Wright State University is taking another step to assist students who may be concerned about maintaining grades during a challenging spring semester. In March, all face-to-face courses were moved to remote delivery to help curb the spread of COVID-19.
Wright State students now have the option to convert one or more grades of courses to Pass/Unsatisfactory (P/U) grading for the spring 2020 semester. Or students can keep their grades as submitted by their instructors.
"We know the coronavirus pandemic has caused immense upheaval in all of our lives," said interim Provost Douglas W. Leaman. "This option will provide students more flexibility during this unprecedented semester."
Graduate students also have the option to convert grades to P/U.
"We recognized that factors related to COVID-19 have affected graduate students' ability to perform at their best," said Barry Milligan, interim dean of the Wright State Graduate School. "We care about our students and are really trying to support them during a time of extreme change."
The grading option does not apply to A-term courses, nor to Flex-term courses completed before March 9. Courses in the M.D. or Psy.D. degree programs also are not included.
"The decision to convert a course grade to P/U is entirely up to the student," Milligan said. "However, students should consult with their advisors and program directors to discuss the implications of the P/U grade specific to their program."
Academic advisors at the Dayton Campus and Lake Campus are available to answer specific questions.
Students should view their final grades on Wings Express and then decide what is best for them. They will have five days, from May 11 until noon on May 15, to move one or more courses to Pass/Unsatisfactory if they elect to do so. Details about how to convert grades to P/U can be found here.
All grades of C or higher for a course for which a student elects the P/U grade will convert to a P. F grades will automatically be converted to U, and students can elect to convert a D grade to a U.
Students who have applied to graduate and plan to keep their letter grades should use the Keep All Letter Grades form instead of the P/U Option. The form is available in Wings Express May 4–15. The registrar must wait until after May 15 to start awarding degrees for students who do not submit a form.
Students may submit only one form. Both the P/U Option and the Keep All Letter Grades forms on Wings Express are optional. If students do not submit either form, their final grades will remain as submitted by their instructor.
Visit the FAQ page for more information on the P/U option.
Graduate students can find more information and how the decision might impact their degree pathways on the COVID-19 website.
For financial aid considerations, consult with RaiderConnect by email at raiderconnect@wright.edu or Lake Campus Enrollment Services at lakeenrollmentservices@wright.edu.