Excerpt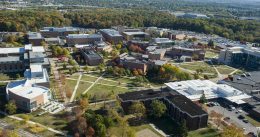 Wright State University confirms its first positive COVID-19 cases of the fall semester. The university just released its COVID-19 dashboard which shows five positive cases, all self-reported from the Dayton Campus.
With about 70% of classes fully remote, freshman Andrew Baugham says this campus does not feel the same.
"This is definitely not the college experience that you might think of any other year," Baugham said.
Baugham says the campus feels empty.
"I just remember seeing so much more life on campus," Baugham said.
This is not a coincidence, Wright State University Interim Provost Dr. Douglas Leaman says only about 1,200 undergraduate students are living on campus, down about 50%.
"It was more about how we arranged our student housing we wanted to make sure they were spread out that we weren't consolidating students," Dr. Leaman said.
Still, the university says at least five people have self-reported positive COVID-19 cases. This means these cases were not reported from public health. Wright State University officials say these people did not report being physically in a classroom so far this semester.
Dayton 24/7 Now's Chelsea Sick asked: "local colleges did require testing before they came to campus they had to provide proof of a negative test. Why did Wright Sstate decide not to do that?"
"Simply a very small fraction of our students are going to be on campus at any given time and so it was much less critical for us," Dr. Leaman said.
As more cases come in, Dr. Leaman says they will look into surveillance testing to help with contact tracing. An effort Deirdre Owsley with Greene County Public Health says the health department would support them in.
"Not testing the whole campus at once, just some focused testing in areas where we may need to target because we have some of that population with cases," Owsley said.
Dr. Leaman says he now calls on students to wear a mask and report positive COVID-19 cases.
"We need them to understand that this is not a punishment in any way this is the way we are trying to ensure that we can continue to operate the way we planned to for this fall," Dr. Leaman said.
To view the Wright State University COVID-19 dashboard, click here.
View the original story at dayton247now.com