Attendees at an upcoming UFO conference and festival in Fairborn can buy special challenge coins designed by a Wright State University student. And in a sense, she whipped up that design at the speed of light.
Scout Duncan, a junior graphic design major at Wright State's Lake Campus, was asked by Bill Cacciolfi, a longtime family friend, to design a challenge coin for the conference.
Cacciolfi chairs the Ohio Heritage UFO Conference and Festival, which will be held May 5 and 6 in Fairborn and at the Hope Hotel at Wright-Patterson Air Force Base.
The event will include a parade featuring children and dogs dressed as aliens, a 5-K run, a flying disc — like a UFO — exhibition and speakers in the unidentified flying object field.
Cacciolfi wanted to commemorate the event with a challenge coin, a military tradition of a coin symbolizing a particular unit or event. The coins will be available to buy as souvenirs. He met with Duncan at a restaurant in early January.
"I sketched out the idea on a napkin. She took my drawing, plugged it in to her computer and designed it on the spot," he said. "She was able to take my non-artistic idea, visualize it and came up with this coin."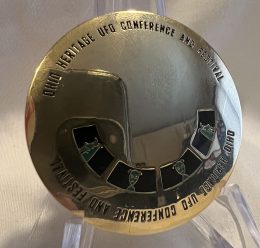 The coin is thicker in the middle — with a nod to the commonly thought shape of a UFO — with a bump on one side so that it can spin like a top. One side has images of aliens; the other side has the name of the conference and the coordinates of Wright-Patterson Air Force Base.
"Bill has come to me with various ideas," Duncan said. "It wasn't out of the blue that he asked me, but it was exciting that it went as fast as it did."
Duncan, who lives in Fairborn, takes classes online from Lake Campus, which offers the Bachelor of Technical and Applied Studies: graphic design concentration.
"I've always been an artist," she said, explaining her interest in graphic design. "I started in traditional art, painting."
She said she was going to major in art history but thought her employment opportunities would be better if she worked in the graphic design field.
Teresa Richter, lecturer and coordinator of the Graphic and Digital Design Program, praised Duncan's creative and outstanding leadership abilities.
"Scout is highly studious with a high level of dedication," Richter said. "Taking pride in her work is important to her, and it definitely shows in her final solutions."
Richter added, "She participated in the UFO coin challenge outside of her academic studies. Students are encouraged to explore as many opportunities as possible in order to grow and gain as much real-world experience as possible. In terms of her design work, it is very exciting to see Scout making use of her skills and finding success in outside competitions."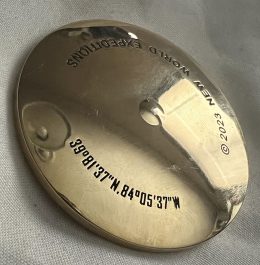 Duncan already is at work outside of classes. She is a graphic design intern with Mitosis Creative in Dayton.
"I had an internship last semester, and they decided to keep me on longer, which was really cool," she said.
How does her UFO challenge coin design compare with other work she has done? "I've done a lot of design work for school, my internship and commissions over the years for family and friends, but this is the first time something has really come to fruition and taken off," Duncan said. "It's been really cool seeing how this project has evolved, and I'm really grateful to be a part of it."