Three Wright State University electrical engineering students were instrumental in making the light switch for the holiday tree lighting ceremony on Courthouse Square in Dayton.
The Nov. 27 lighting of the towering tree from Tipp City drew hundreds of spectators. The Grande Illumination Ceremony is one of Dayton's largest annual holiday festivities, this year marking 43 years of kicking off the holiday season, according to the Downtown Dayton Partnership.
The Dayton Power and Light Co. approached Wright State's Department of Electrical Engineering in October for help in designing a ceremonial switch.
Taking on the project were Laynce Yoder, a graduate student from Middletown; Jeremy Hong, a junior from Dublin, Ohio; and John Richard, a junior from Bellbrook.
The students brainstormed ideas with officials from DP&L and the Nova Creative Group, a Dayton design company. The group settled on a giant wall light switch.
"It was fast-paced work. You couldn't waste any time," said Hong, who is interning in the Dayton office of Sierra Nevada Corp., which provides electronic systems. "And it was nice having the experience of communicating with people more on the creative side of things in design."
The biggest challenge for the students was producing a switch in a short period of time. So they tried to keep it simple in order to meet the deadline.
After the design work was finished, the students had a week to engineer the circuitry of the switch. They worked out of an office in a bank building adjacent to Courthouse Square, soldering and finishing the circuitry there.
"The switch was able to be rolled right out once we were done," said Yoder.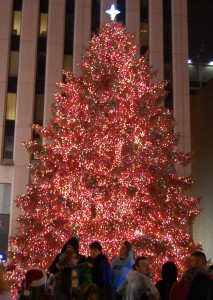 Yoder, who works for Ball Aerospace as an associate engineer in radio frequency and wireless communications, said the experience gave him a chance to work on a project with non-engineer professionals.
"I got a lot out of that," he said.
That was echoed by Richard.
"One of the things I really appreciated about having this opportunity and experience as a whole was I was able to interact with these professionals," he said. "They knew what they wanted and what they didn't want. Just being in the room with everything being passed back and forth so quickly — that was really big. That was an eye-opener."