They have jetted to the stratosphere of research in the U.S. Air Force. One
oversees the Air Force Research Laboratory (AFRL). Another is chief scientist for human performance. A third heads up research on sensors.
All are Wright State University graduates and senior executives at Wright-Patterson Air Force Base whose careers were launched in the STEM disciplines—science, technology, engineering, and math.
Ricky Peters, Morley Stone, and Michael Deis are part of a pipeline of talent that has flowed from Wright State and now heavily populates labs and offices at Wright-Patterson.
Ricky Peters
An unopened pack of Lucky Strike cigarettes stands at attention on his office shelf.
For Ricky Peters, executive director of the Air Force Research Laboratory and a non-smoker, it serves as a reminder.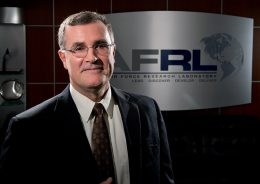 "I worked for a general once, and his comment always was: 'You know, when things get really pressured and you think it's too much, just take a break and smoke a Lucky,'" Peters said. "So everybody had a pack of Lucky Strikes at work, just in case things got too tight and you had to make a tough decision."
Peters has to make many important decisions these days, but he doesn't seem to need a Lucky.
"This is a fun job," he said. "I think I have the best job in the Air Force."
Peters manages the Air Force's $2.5 billion science and technology program and a workforce of about 10,400 people in the lab's component technology directorates and the Air Force Office of Scientific Research.
He arrived at this summit after a boyhood spent in rural western Ohio and a journey that took him through Wright State University, AFRL at Wright-Patterson Air Force Base, Arnold Air Force Base in Tennessee, the Pentagon, and finally back home to Wright-Patterson.
Peters grew up in the tiny village of New Lebanon, just west of Dayton. He attended Dixie High School, where he was a drummer in the band and played basketball for the Dixie Greyhounds.
His interest in mechanical engineering came naturally. His father was a machine repairman at General Motors, and Peters would work on cars and farm equipment. He was hoping to work for GM as an apprentice, but got a scholarship to Sinclair Community College in Dayton and obtained his associate's degree.
Peters then became a technician at AFRL as a civilian. The Air Force paid his tuition to attend Wright State, and Peters emerged with a bachelor's degree in systems engineering.
A highlight for Peters at Wright State was his senior design project. His team built a mini Baja car and took part in a competition, but the students' hopes of victory were dashed when they burned up a belt when the vehicle was forced to stop on a hill during a yellow flag.
"It was an awesome experience, a great time, and I still remember that," he said. "It was a lot of evenings, a lot of weekends we worked on the car, but it was a great time."
Peters said Wright State gave him a solid foundation in engineering principles and prepared him when he returned to AFRL at Wright-Patterson as an aircraft survivability engineer. His job was live-fire testing—firing live munitions on test U.S. military aircraft to determine how survivable they were to foreign threats.
"As these shells go inside an aircraft, they actually explode  and throw all of these fragments out," Peters said. "You have hydraulic lines, electrical lines, and because it bursts inside, it messes up everything. Sometimes when you would get a fire in a fuel tank, you get some pretty good explosions and large fires."
As a result of that work, Peters and his team members were asked by the FAA to help with the investigation of Pan Am Flight 103, which was destroyed by a terrorist bomb in 1988 while en route from London to New York. All 243 passengers and 16 crew members were killed, as were 11 people on the ground in Lockerbie, Scotland.
Congress wanted to know how big of an explosive it takes to bring a commercial airliner down. The conclusions drawn by Peters and his team were used to develop detection technologies.
"The things you see in the airports today, and the amount and the size they can detect were based on the research and the findings that we had in that program," Peters said.
Hanging on a hook in Peters' office are a pair of safety goggles and a white lab coat patchworked with stains from the time he served as advanced development manager at the Materials and Manufacturing Directorate in the mid-1990s.
Peters insisted on wearing a used lab coat, one that had absorbed its share of spills.
"When I would go to the lab I'd always wear it, and they'd think 'This guy's been here for a long time,'" Peters said with a laugh.
The white and yellow hard hats Peters keeps on his office shelf are a reminder of Peters' time in 2006 to 2008 at Arnold Air Force Base, a hypersonic wind tunnel testing area where he was executive director of the Arnold Engineering Development Center.
After a stint at the Pentagon as director of test and evaluation, Peters fulfilled
his goal to return to AFRL in the spring of 2013, when he returned to Wright-Patterson as the executive director of the organization where he laid the underpinnings of his career.
Peters and his wife, Sheri, who has a master's degree in engineering from Wright State, settled in Brookville, west of Dayton.
Peters, who has spent a total of 24 years at AFRL, is heartened by the youthfulness of his workforce. As many as 40 percent of the workers have been at the lab 10 years or less.
"Just to be out with them and see the exciting things they're working on is awesome," he said. "It brings me back to when I was in the lab as a junior person."
His challenges include dealing with budget constraints and balancing AFRL's portfolio to meet short- and long-term Air Force technology needs.
"A laboratory can't continue to do the same things year after year, so it gives us a chance to look at where we go in the future," he said. "There is always opportunity, I think, any time there are financial pressures."
It turns out that hard work—not Lucky Strikes—is the key to a successful career in the Air Force.
Peters says he learned the lessons of hard work on the mini Baja and the long hours studying engineering at Wright State, for which he is grateful. Continued interaction with the university, he says, gives him energy for the future of technology.
Morley Stone
It was a course that changed the course of his life.
Microbiology. Sophomore year. Wright State University.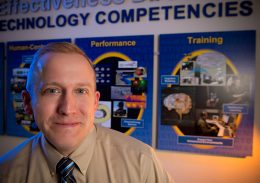 It launched Morley Stone on a journey that has led him to a mountaintop of his profession—chief scientist, 711th Human Performance Wing, Air Force Research Laboratory, Wright-Patterson Air Force Base.
Stone said the course got him thinking about things with a cellular and sub-cellular perspective.
"That background just started to ignite a fire," he recalled. "The next year I took biochemistry courses, some medicinal chemistry courses, and then finished up with some molecular biology coursework. I knew at that time that I was hooked on trying to figure out things at the cellular and sub-cellular level."
Stone's interest in biology may have come even before that, perhaps subliminally.
He grew up in the tiny steel-producing town of Steelton in eastern Pennsylvania and worked for his father, who was the town funeral director. Anatomy and physiology came with the job.
"It also started sparking an interest in the biochemical basis of what's going on underneath the skin, so to speak," Stone said. "It began planting those seeds of interest."
After graduating from high school, Stone packed his bags, tossed them into his van, and drove to Dayton, where he moved in with his brother, a student at the Air Force Institute
of Technology.
Stone enrolled at Wright State and was bowled over by orientation.
"One of the things that really impressed me about the university at that time was just how personalized the attention was that I received," he said. "That meant a lot to me; it still does."
Sophomore year, the young biology student began working at Wright-Patterson.
"Coming through these doors as a 19-year-old kid, how much awe I had," he recalled. "I had never seen people who could sit down and just write computer code so fluently, like they were a native speaker. That was just incredibly influential to me. I didn't even know people like this roamed the planet."
The opportunity to work on Air Force research projects while completing his bachelor's degree at Wright State was such a powerful combination that the Air Force sent Stone to Carnegie Mellon University in Pittsburgh to get his Ph.D.
"I walked into those first-year graduate courses incredibly prepared," he said, "much better prepared than my classmates coming from top-tier universities. They didn't have near the breadth of experience that I had because of this unique environment that goes back and forth between Wright-Patterson and Wright State. It was a unique linkage between coursework and real-world science and technology application."
When Stone returned to Wright-Patterson, he was asked to set up a biotechnology group for AFRL's Materials and Manufacturing Directorate. He learned his way around Washington, D.C., and obtained funding from the Air Force Office of Scientific Research.
Stone's mission was to figure out how biology makes materials and senses the environment and then use those principles to design systems for the Air Force. In one example, his group studied single-cell algae, called diatoms, that produce intricate structures made of silica, an oxidized form of silicon, widely used in the manufacture of computer chips.
"We started a project trying to figure out what's the molecular basis that the diatoms use to actually impart control over that silica. Is there any way that we can replicate that outside of the cell?" Stone said. "And the answer is yes, we can. We were very successful at that."
Stone then spent three years in Washington, D.C., at the Defense Advanced Research Projects Agency (DARPA). DARPA produces new technologies for use by the military and has helped develop such things as the Internet and stealth technology. Stone was a program manager for bio-inspired technology and also worked on sensing and molecular computation.
"You're there with people who have been chosen from academia, industry, and government. You're all jammed together," Stone said. "Being there with such bright people—all who are there to get a lot of work done in a short period of time—is a very
exciting experience."
In 2006, Stone returned to Wright-Patterson to head up the Hardened Materials Branch of the Materials and Manufacturing Directorate. Two years later—after serving as senior scientist for molecular systems biotechnology in the Human Effectiveness Directorate—he was named chief scientist for the 711th Human Performance Wing.
Stone said the biggest challenge in that role is trying to keep up with the breadth of work that is occurring in the human sciences and the rapid advances being made in the health and biosciences.
"Everything from neuroscience, cognition, wearable sensors, human machine teaming; there are just so many fronts where there is such exciting work taking place," he said.
Stone's advice to students seeking research jobs with the military is to accept that it will be a career of lifelong learning and to develop your critical thinking skills.
"You're preparing for careers in research areas that don't even exist yet," he said. "So by definition you're going to have to be very facile; you're going to have to continually embrace learning new areas as they develop because that's just the nature of our current accelerating technology-focused world."
Michael Deis
His hilltop office offers a spectacular view of Wright-Patterson Air Force Base, the Dayton skyline and the horizon of western Ohio. Geese will sometimes take a flying break, swooping down to rest on the ledge outside his window.
Michael Deis has also ascended to these kinds of heights in his career.
As director of the Sensors Directorate at the Air Force Research Laboratory, he heads up efforts to develop the Air Force's science and technology in intelligence, surveillance, reconnaissance, precision engagement, and electronic warfare. He oversees an annual budget of more than $850 million and the activities of about 1,300 scientists, engineers, and others.
"What it really boils down to is how do we protect and how do we ensure that our warfighters are able to accomplish their missions in a hostile environment?" said the Wright State University graduate. "How do we counter the enemy's air defenses? How do we make sure our fighters get in to perform their mission and return home?"
Books on Deis' bookshelves suggest both an interest in military history and administrative command—Combat Search and Rescue in Desert Storm, Norman Schwarzkopf's It Doesn't Take a Hero, and Leadership Secrets of Colin Powell.
Deis' journey began in west Dayton, where he grew up as the son of an electrician who worked at General Motors Corp. The family later moved to Fairborn and then Xenia, where Deis attended Xenia High School.
The school allowed Deis to substitute all of the basic science courses with those on electronics.
"I took electronics because I loved electronics," Deis said. "My dad was an electrician, and he used to wire houses. I started doing that with him when I was 10 years old."
Deis enrolled at Wright State, but found that his lack of preparation in biology, chemistry, and physics hurt him. So he left, enlisted in the Air Force, and married Karen, his high school sweetheart and now wife of 40 years.
Horses had brought the couple together. Karen had them. Deis told her he knew how to ride them. "She learned very quickly that I didn't have a clue about how to ride a horse," he said with a chuckle. "But we became best friends."
After finishing Air Force tech school in Denver, Deis and his new bride shipped out to the RAF Bentwaters/Woodbridge, about 80 miles northeast of London.
A mentor encouraged Deis to go back to school and get his engineering degree. So he returned to Wright State and did just that. His wife also has her degree from Wright State, in human factors psychology.
Deis worked for Systems Research Laboratories in Beavercreek and served as a combat communications engineer with the Ohio Air National Guard before coming in 1987 to AFRL at Wright-Patterson, where he was a controls engineer in the Flight Dynamics Lab.  He was promoted two years later and went into the test and evaluation of electronic warfare systems with the AF Electronic Combat Office.
In 1992, Deis was off to Eglin Air Force Base in Florida, where he spent the next 15 years in test and evaluation of munitions and weapons systems. He returned to Wright-Patterson in 2007 as technical director for Air, Space, and Information Operations at Air Force Materiel Command, then deputy director, and in January 2012 became director of the Sensors Directorate.
The directorate develops technologies for electronic devices, radio frequency sensing, electro-optical sensors and countermeasures, and automatic target recognition.
Deis has been working hard on how to advance Air Force capability in a "contested environment."
"Frankly, we haven't had a contested environment in over a decade now and we've maybe lost a little bit of our skills and knowledge," he said. "It's regrowing that capability again, not only with our scientists and engineers in the Sensors Directorate, but also the technologies we provide to the warfighters so they can raise their skill levels up to where they need to be to safely accomplish their missions."
Deis said the engineering degree he obtained at Wright State provided him with the foundation upon which everything else was built. He said powerful bonds have developed between Wright-Patterson and Wright State.
"Many of my scientists and engineers have strong relationships with Wright State," he said. "We have many Wright State graduates here who stay in touch, help advise, or guide students with their thesis or dissertation."
Deis himself serves as the Air Force advisor on the Wright State Engineering and Computer Science Board. "We're all working hard to try to help our students, both academically and professionally," he said.
Deis, who also a master's degree in systems engineering from the University of Florida and a doctorate in organizational leadership from the University of Phoenix, said the Air Force has tremendous opportunities for STEM students.
"Even though we're fighting budget pressures now, there is a recognition that students, future engineers, future scientists are the core and foundation of Air Force science and technology," he said. "We'll always be bringing young folks in to do that."
Next Generation
It all began with a phone call.
Wright State University President David R. Hopkins rang up then-Education Dean Gregory Bernhardt and urged him to organize an effort to start a STEM school in Dayton. That was 2007.
On June 1, the Dayton Regional STEM School graduated its first class—52 talented seniors bound for the likes of Wright State, Emory, Purdue, Texas A&M, Ohio State, Rose-Hulman Institute of Technology, and other schools.
Along the way, the students learned Mandarin Chinese.
They immersed themselves in challenging  math, science, engineering, and technology courses.
And they engaged in real-world problem solving—making presentations to lawmakers on a high-speed rail proposal, creating for health officials an anti-smoking campaign directed at teens, and building, packaging, and marketing a wooden, brain-teasing toy for the children of China.
"We're well down the road to our goal of having prepared young people who are going to be the next generation of innovators, entrepreneurs, researchers, and employees in high-tech who have a relationship with real companies in this region," said Bernhardt.
Bernhardt took the lead in putting the school together, working with public school leaders, the University of Dayton, Central State University, Sinclair Community College, Clark State Community College as well as the Air Force Research Laboratory, the Dayton Area Chamber of Commerce, the Boonshoft Museum of Discovery, and others.
The school is one of 12 public STEM schools across Ohio. They are designed to offer students a relevant, real-world education that prepares them for college and the working world. The students participate in inquiry and project-based instruction that marries traditional STEM content with social studies, language arts, the fine arts, and wellness and fitness.
More than 540 students are expected this fall at the Dayton STEM school, an increase of about 120 students over last year. They come from more than 30 school districts in six counties.
"One of the things about the STEM school that interested me was that there were people coming from all over the community to try to build this school together," said Bradley Hensley, a graduating senior.
This is the first year the school has operated at its full complement of grades 6–12, housing both middle and high school students and classes on one campus in Kettering.
"Some really cool stuff goes on here," said Laurie McFarlin, director of communications and partnerships.
A stroll through the school bears that out.
Common areas are rimmed by computer stations, which draw huddling knots of students. Open classrooms reveal in-progress lessons of everything from art to computer modeling. A fitness commons is used for walking, weightlifting, Zumba, fencing, Tae Bo, and other activities.
Walls are dressed with posters of Mahatma Gandhi, Mt. Fuji with Japanese script, and an  array of student artwork such as a collage of watercolor paintings of cells—an effort to fuse a lesson in art with biology. College pennants are pinned to the cafeteria wall, a tribute to the destinations of graduating seniors.
"This place is buzzing from 7:30 in the morning until 5 in the afternoon," said McFarlin. "And the pep rally we had several weeks back for our robotics teams looked a lot like a sporting event."
The school fields seven robotics teams, middle school and high school Science Olympiad teams, a Destination Imagination team, and a CyberPatriot team. Students have a chance to participate in Science Fair, Student Council, Muse Machine, yearbook, and community service. And it recently inducted the first group of junior and senior students into its new chapter of the National Honor Society.
The school doesn't operate in a bubble, but instead strives to build relationships and connect with the outside world. One Principles of Engineering course is taught by employees from Air Force Research Laboratory. And student artwork finds itself on public display at places like Wright State and the Dayton Metro Library.
The STEM school has become a living laboratory of sorts. Delegations of educators from as far away as Russia and East Asia have dropped in to check out the educational model.
Wright State is the school's lead partner. All of the 37 faculty members and other eight workers are Wright State employees, but they are paid by the STEM school.
Kevin Lydy, who teaches U.S. history and comparative religion at the STEM school, said the school accepts students of all different skill and ability levels. But hard work is the common denominator.
"We want students who are going to be motivated by academic challenges and give us their all," Lydy said.
Philip Bottelier teaches introduction to engineering, conceptual physics, and computer modeling and simulation. Student netbooks are equipped with state-of-the-art software and they work in teams on re-engineering projects. The school also has a 3D printer on-site.
"It's high level," Bottelier said. "They are remarkable kids."
Hensley says the classwork is extremely challenging and there is encouragement for students to get their work done.
"It's a very good thing," he said. "I feel like I actually have to apply myself, have to do a lot of deep thinking. They teach you to be very independent."