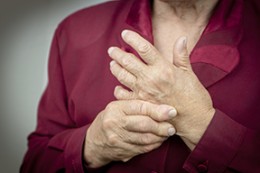 Wright State Physicians Orthopaedics will offer an educational session, "New Insights into Diagnosis and Management of Rheumatoid Arthritis," on Tuesday, Oct. 21, at 7 p.m., in classroom 1 in the Wright State Physicians Health Center. The session is free and open to the public.
The speaker is William E. Venanzi, M.D., assistant professor of internal medicine, chair of the Division of Rheumatology at the Wright State University Boonshoft School of Medicine and a rheumatologist in the Wright State Physicians Department of Internal Medicine. Venanzi will speak about inflammatory synovitis, treating rheumatoid arthritis in the preclinical phase and using objective measures to monitor the treatment of rheumatoid arthritis.
Venanzi is certified in internal medicine and rheumatology by the American Board of Internal Medicine. He is a graduate of Loyola College in Baltimore and earned his medical degree in 1989 from the University of Maryland School of Medicine through the Air Force Health Professions Scholarship Program. He entered extended active duty after becoming a distinguished graduate from the Aerospace Medicine Primary course. He was elected a fellow of the American College of Physicians and twice elected to the board of governors for the Society of Air Force Physicians.
Videos of past sessions may be viewed at wrightstatephysicians.org/ortho/video.
To register for the session, contact Amy Leach at amy.leach@wrightstatephysicians.org or
(937) 208-8307.
Wright State Physicians Inc. includes more than 160 physicians affiliated with the Boonshoft School of Medicine. The group provides primary and specialty care in a wide range of specialized diagnostic and treatment services throughout the Dayton region.