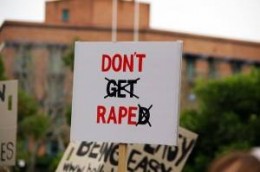 Student Charmaine Renee, an art major, is using art to express her concern about sexual violence and to help victims tell their stories.
Renee is participating in action to raise the voices of those who have been sexually assaulted through her project, In Solidarity We Resist (ISWR), on Wednesday, April 15 on "the Quad."
Renee's position as a Wright State Women's Center student Artist-in-Residence for Gender Justice Activism allowed her to pursue her idea of sharing survivor's stories in a performance piece.
An aspiring artist, Renee combined her love for activism and art in her project. She said she was inspired by Suzanne Lacy's art action in 1977, "In Mourning and In Rage."
"I'm looking forward to creating a space for those whose voices have been silenced and minimized. I'm hopeful that it will be a space of empowerment," said Renee.
With time, Renee has gained strength and bravery to share her post-Wright State experience with others.
"After I was raped … it took me a long time to process what had happened … finding a vocabulary that was empowering," said Renee. "Once I found that vocabulary I was able to speak up and be open about sexual violence and my experiences. … I've found my voice and I'm not often afraid to use it."
Renee is using her student position to uncover an uncomfortable topic that the majority of people do not want to talk about.
"The more I've educated myself and opened up about my experience, the more I found other people of all genders who had experienced similar situations. Many of the conversations I have with other survivors start out with, 'the first time I was raped,'" said Renee.
Renee's project is being heard by survivors and enabling them to open up with other victims and professionals.
"Charmaine's work reaches out to survivors of sexual violence and encourages them to share their stories in ways they can feel heard and valued. Her project also creates a public space in which those stories are shared, not by the survivors themselves, but by activists who give voice to those who have been violated and are reluctant to speak out," said Kelli Zaytoun, associate professor of English and interim director of the Women's Center. "The project raises awareness, alerts Wright State community members to a critical problem, and motivates them to take action to seek change for the better."
Renee said she has felt isolated because of her past but has felt encouraged by those who have reached out to her and support her work.
She said she wants to work in the nonprofit field and work as "a sex-positive feminist, Queer loving, anti-racist" as part of her career.
Renee has outlined a definition of consent when it comes to sex:
"Consent is a voluntary, sober, imaginative, enthusiastic, creative, wanted, informed, mutual, honest, active and verbal agreement. It is a process, which must be asked for every step of the way. Consent cannot be coerced, intoxicated, implied, and cannot be assumed, even in the context of a relationship. Just because you are in a relationship does not mean that you have permission to have sex with your partner. The absence of a 'no' doesn't mean 'yes.'"
For more information on In Solidarity We Resist, visit http://insolidarityweresist.com/ or https://www.facebook.com/InSolidarityWeResist?_rdr.
Students who are interested in art and activism and have a project in mind are encouraged to complete an application and proposal for next year's Student Artist-in-Residence for Gender Justice and Activism. For more information visit www.wright.edu/women.
There are two writing workshops for survivors of sexual violence. The first is Wednesday, April 8, from 4 to 5:30 p.m. in 157 Rike Hall. The second is and Sunday, April 12, from 2 to 3:30 p.m. in 401 Millet Hall. These workshops are facilitated by Andrea Harris and hosted by In Solidarity We Resist.